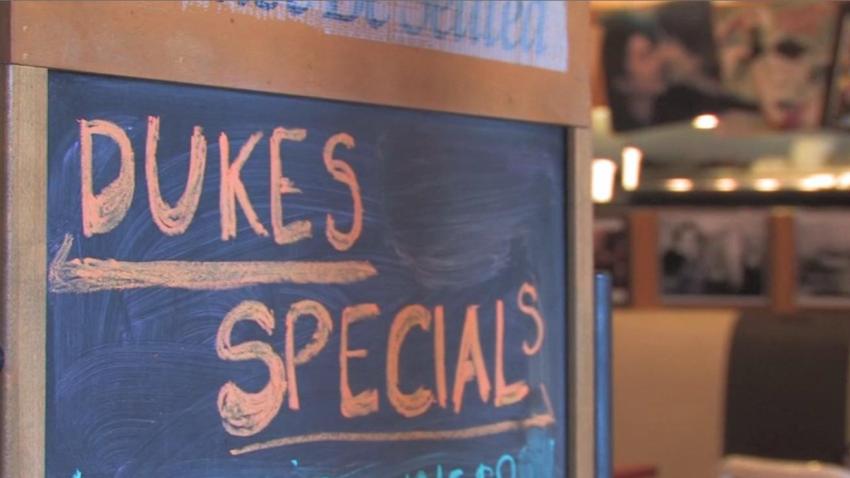 Nestled in the heart of Sunset Strip is a diner that once served to the likes of Janis Joplin, the Doors and John Belushi.
"We have good food, good music and good history," said Adam Newton, co-owner of Dukes West Hollywood.
Dukes West Hollywood mixes the history of the original Dukes Coffee Shop while transforming the traditional diner feel with a modern flair and a smack of Rock 'n' Roll.
"Dukes has become not only a landmark but a Hollywood institution," Newton said.
Founded in 1968, Dukes West Hollywood started as part of the Tropicana Motel on Santa Monica Boulevard.
During its time at the Tropicana Motel, Dukes became a "musical Mecca" where legends like Poison, Blondie and the Runaways would eat after a show, said a Dukes representative.
Dukes rocker demeanor and rich history coupled with great food makes for a must-try for any rock fan.
"If you don't deem a basic egg dish five-star worthy, there is the matter of Dukes' colorful Rock 'n' Roll history [and] colorful clientele," said Mary Grace, a West Hollywood resident and weekly costumer. "But I love it for the eggs."
Along with great eggs, Dukes offers an array of American cuisine with a mix of vegan and vegetarian choices.
Reviewers on Yelp rave about "The Revenge," a concoction of onions, tomatoes, jalapenos, green peppers and chili spices and old menu favorites like the Dukes' Classic Burger.
"It's called 'The Revenge' because it's filled with peppers, onions and everything that is going to spice it up," Newton said.
It's the breakfast that seems to be the customers' favorite.
"Well, when your night of Sunset Strip boozing leaves you with the craving for cheese, eggs, toast and more cheese, head to Dukes," said one reviewer on Yelp.
Dukes now serves breakfast until 4 a.m. Thursday through Saturday.