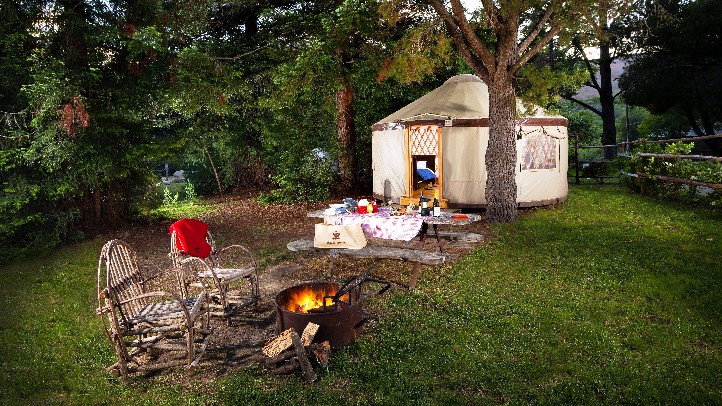 CALMING WORDS: Some people listen to a favorite song when stuck in traffic. Others whistle or think about a favorite memory. Us? We like to daydream about potential vacations. Vacations where we can hike and stare at seashells in our hand for minutes on end and stare at the moon for minutes on end and not give a whit to the bustle we've left back home. With that in mind our daydreams frequently turn to El Capitan Canyon, that bucolic bastion of plush tents and cabins located just north of Santa Barbara and not too far from the beach. And our daydreams just got daydreamier: The rustic-but-not-too-rustic destination recently added a trio of Adventure Yurts to its array of stay-over choices.
ABOUT THE YURTS: So this little tidbit is charming and says a lot about the place: The El Capitan staff would hold meetings in a Meeting Yurt (we may like those two words as much as "Adventure Yurt"). Tent-staying guests saw the meetings in the Meeting Yurt and they began to comment that they wanted a yurt of their own to sleep in. And thus the Adventure Yurts were born. The yurts "have the sturdiness of a cabin and the natural coziness of a safari tent," says El Capitan, and rates start at $175 during "the quiet season." El Capitan, come on. Now you're just charming the socks off us. "The quiet season"? We're going to start breaking our year down into various seasons depending on our general stress and busyness levels.
GOOD TO KNOW: You'll want to note that "bathhouses are nearby" -- you will be in a yurt, which is closer to nature than most hotel rooms -- and you'll want to look over all the natural outings and relaxation-inspiring to-dos around the canyon.
Copyright FREEL - NBC Local Media