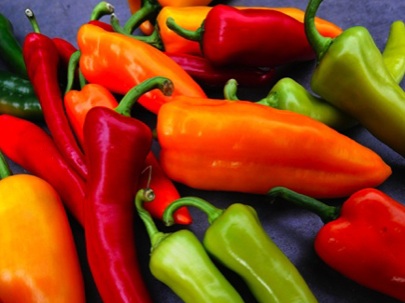 One of our favorite parlor games is determining how seasons are sensed in Los Angeles.
But there are two incorrect things about that opening sentence. One, do people have traditional parlors nowadays? In Angelino Heights, maybe, but in general. And two, LA indeed gets its seasons, even if they don't arrive in the traditional ways, and implying that one has to work to sense them is not right.
Watching for the annual chile sale in the La Puente High School parking sale is one of our main autumn lookouts. Once the big trucks pull in over four (nearly) consecutive Saturdays, we know that fall is approaching and fast.
In short, El Rey Farms trucks in mounds of Hatch chile from New Mexico. There are plump sacks all over the place and smoky roasters going at full force. And patient people waiting for their XHots, Hots, Mediums, Miles, Yellows, Jalapenos, and -- wait for it -- XXHOT. We're heat sweet, but believe it, that XXHOT is a speeding train headed straight into flameville. Props to you for riding, if you choose. Major props.
The first Saturday is Aug. 13, the final Saturday is Sept. 10, and there may be an extra Saturday following. There's no sale over Labor Day weekend.
You'll want to order in advance and nail down your pick-up date -- quantities are indeed limited, as El Rey says, so don't wait on this one. Figure you'll have a freezer packed with chile poundage for all of those winter stews and such. Bet you'll have fire-loving pals clamoring at your door. If you like that sort of thing.
Who wouldn't, though? It's one of the signs of wintertime, to us. Here in LA, or anywhere. Friends coming over to eat good, warming stuff. Love.
Copyright FREEL - NBC Local Media