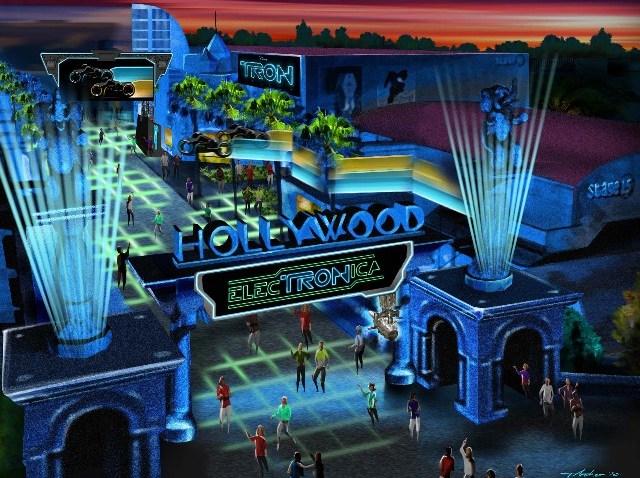 Do we all have that friend, who, whenever you happen to be together driving through Culver City, excitedly points at the building at 9543 Culver Boulevard and explains, with a breathlessness, that that was the location for Flynn's Arcade in the 1982 version of "TRON"?
Even if you don't have that friend, you know that there are many Flynn's fans out there. And TRONites? Legion. They're stoked for the reboot of the Jeff-Bridgesian Disney computer-game-sci-fi flick, but they've got even more reason to be stokier now: the debut of ElecTRONica at Disney's California Adventure on Friday, Oct. 8.
If you're wondering to yourself, "say, self, why is "TRON" capitalized in the middle of that word?" you need wonder no longer. ElecTRONica dips inside, theme-parkily, the world of "TRON: Legacy," which is the name of the film that is premiering on Dec. 17. There will be lasers at the nighttime event. Light-cycle-type decor. There will be dancing. And yes, there will even be a Flynn's Arcade.
ElecTRONica is happening at California Adventure weekends during the fall -- Fridays through Sundays -- plus some special weeks around the holidays and closer to the film's release.
And if you're wondering if Flynn's is still taking quarters and ratcheting up high scores around Culver City, it is not; only on film. But the building that served as the setting for the arcade is still there, and inside that building is Akasha. More main meal than mainframe, note. Mmm.
Copyright FREEL - NBC Local Media