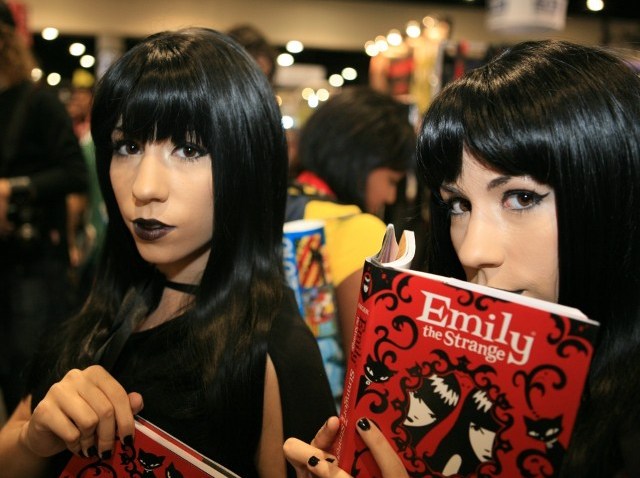 Dare we call Emily the Strange a true California Girl?
She's not so much into sunshine, like California Girls are often said to be. She's more likely to be found indoors, petting a cat, petting four cats, in fact, and thinking odd thoughts. But the Goth-sweet pop culture phenom was indeed born in the Golden State -- in surfy, sunny Santa Cruz in fact, courtesy of artist Rob Reger -- so Emily the Strange, it can be said, is indeed a California Girl, proving yet again that one size does not fit all in that particular category.
Now the spooky comic-store staple is getting her own party, at the Royal/T in Culver City no less, a party that celebrates the Emily the Strange pop-up store that will be stranging-up things 'round these parts through Thursday, Nov. 11. The Emily the Strange Kitty Masquerade is on Tuesday, Oct. 26, and if you're guessing that there will be a lot of red and black in the crowd -- Emily's favorite sartorial touchstones -- you'd be right.
Mr. Reger will be in attendance. There will be music. There will be treats like Strange Tacos and cupcakes. And a full-on costume contest.
And will there be chitchat regarding the upcoming "Emily" movie, starring "Hit Girl" Chloe Moretz? No tea leaves required for that question.
Copyright FREEL - NBC Local Media