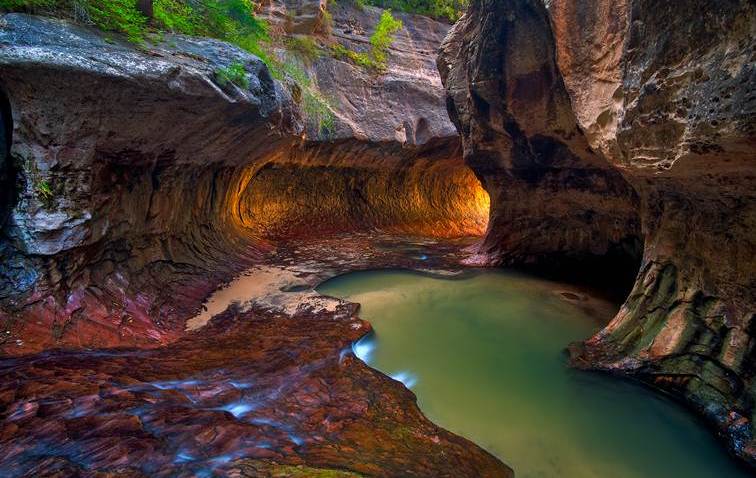 This article is sponsored by The Utah Office of Tourism. Learn more about Utah's endless activities and vacation options at VisitUtah.com.

Californians are an adventurous breed. But rather than book a trip to The Pyramids or The Amazon this summer, there's another must-do adventure that's much more accessible.

Home to five iconic national parks, Utah is the perfect place to explore otherworldly landscapes, from riding a mule through dramatic rock formations to canyoneering through waterfalls. And unlike other iconic global destinations, all five of Utah's National Parks can be easily explored in a five day vacation, making it the ideal road trip for California families.

But before you book your Mighty Five™ trip, it's important to get the lay of the land -- literally, it's massive and spectacular. Each National Park has its own unique charms and serves up different adventures. Let's take a closer look at what to expect from each.
Zion National Park
With its soaring sandstone cliffs and deep canyons, it's no wonder that Zion is Utah's most visited park. Now in its 101st year of operation, it's also the state's oldest. Escape the crowds by exploring the park's extensive network of trails, some leading to iconic natural formations like Angels Landing and Weeping Rock, or join the kids on Ranger-led hikes, which are educational and free for the whole family.

Bryce Canyon National Park
Calling Bryce a canyon is a bit of a misnomer. Think of it more as a series of spectacular amphitheaters, each punctuated by thousands of thin rock spires known as "hoodoos." There's a shuttle service (free upon paying the entry fee), but why explore the park by bus when you can do it from the back of a horse or, better yet, during a guided moonlit hike?

Capitol Reef National Park
Known for Waterpocket Fold, a 75-mile-long geological formation that arcs its way through the park like a breaking wave frozen in time, Capitol Reef is also home to some of the state's best rock climbing, or "bouldering." For a calmer but no less enjoyable activity, bring the family to Fruita, an orchard where fruit can be picked in the heart of the park.

Canyonlands National Park
Thousands of feet below Canyonland's red rock pinnacles lie the Colorado and Green Rivers. Not to mention plenty of rapids. Navigate them in a guided raft, then dry off by bombing though the world-famous and seemingly endless miles of mountain bike and four-wheel-drive routes that web Utah's largest park.

Arches National Park
Over 2,000 natural stone arches grace this 73,000 acre park's peaceful terrain, while spires crowned by balancing boulders add to its otherworldly vibe. Take it all in via a 40-mile scenic drive, then go deeper by joining a ranger and exploring Fiery Furnace, a tight canyon where rare plants and cool grottos are protected by steep rock walls.
So whether you're looking for memorable family fun, an adrenaline rush, the solace of nature or a combination of all three, you're sure to discover an unforgettable experience that can only be found in Utah. And with so many unique parks, there's more than one way to visit Utah. Learn about Life Elevated and explore different itineraries for your trip to The Mighty Five™ at VisitUtah.com.