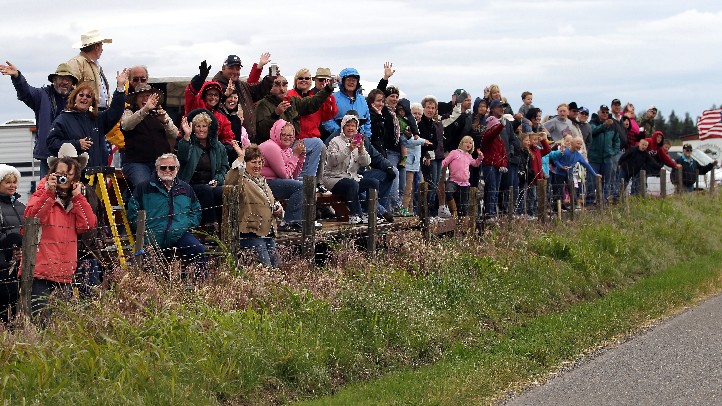 A bit of grayness can't keep an intrepid cyclist down.
And the people out to cheer on intrepidness and cycling? Well, they don't seem to mind the gray and the damp either. They just don some macks and haul out an umbrella and they turn up anyway. Turn up in droves. Because a major cycling event is not to be missed, especially if it is heading through your section of town.
In other words, even if you're not riding, you're still part of the action. The audience always is.
We're in the thick of the Amgen Tour of California, which means that the final stage is just a handful of stages away. And that final stage of the tour, Stage 8, is the Southern California bit of the event. The quick-like pedaling will go down from Santa Clarita to Thousand Oaks, if you're keen to see world-class riders in action. Stage 8 is happening on Sunday, May 22.
There's another southerly stage, though, and that's Stage 7. Fans'll be lining the route from Claremont to Mount Baldy on Saturday, May 21. Bet a lot of people will take in both the penultimate and final sprints.
And there's also a festival and expo going on at the finish line of each stage. So if just merely watching isn't enough -- and it is plenty for plenty of people -- get to the finish and get shopping. All sorts of bikely buys and such will be on the offer, and booths with info on healthy lifestyle choices.
Copyright FREEL - NBC Local Media