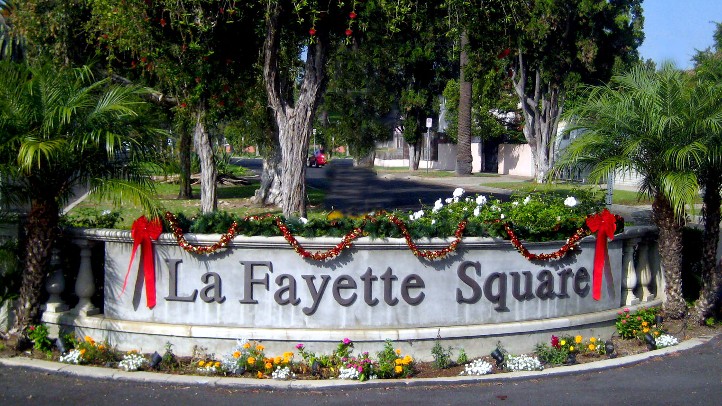 When you see a stately movie home that practically oozes a certain nifty 1909ness, bet it is located in or near Lafayette Square.
The historic clutch of large homes 'round West Adams way doesn't necessarily look like it belongs in Los Angeles, but, of course, the funny part is they've been here long before other architectural styles and trends grew and caught on. The wide staircases and inlaid details and formal-feeling gardens were first based on "European cities," says the West Adams Heritage Association. And that feeling stayed intact for over a century inside many of the manors.
Now many of those La Fayette-lovely homes will open for the Association's annual Holiday Progressive Dinner. It's one of our favorite tours of the year, because not only do you get to take in some lookie-loo-ing, but there's food involved.
Lookie-loo-ing *plus* hot casserole? Call our lives complete.
The dates are Saturday, Dec. 3 and Sunday, Dec. 4. Price is $85. There's also a non-food self-guided dealie on Sunday. That's $30.
Jump on this if you love to peek around some of LA's stateliest piles. Jump on this if you like seasonal decor. And jump on this if you like nibbles with your nosing about. And who doesn't?
Two more things we like about Lafayette Square. It goes by Lafayette Square, even while certain signage reads La Fayette. Quirky. Two? Interesting famous people lived there. W.C. Fields and art maven Norton Simon, for two. We'd totally do our W.C. Fields impression in his former abode. Until the current owners politely asked us to stop.
Copyright FREEL - NBC Local Media