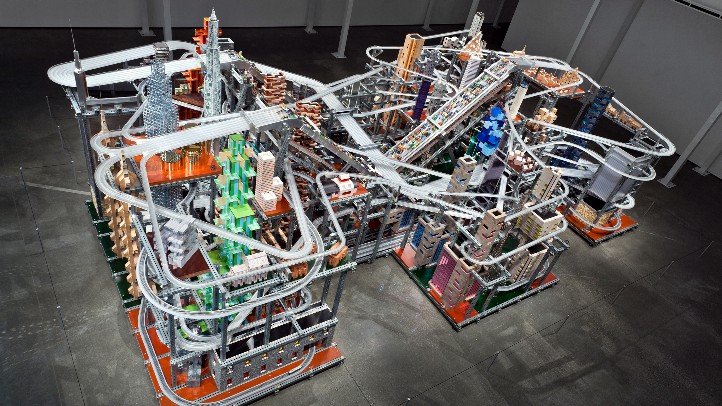 There are pie contests that specify that entrants use either berries or nuts, and then there's the KCRW Good Food Pie Contest, which says that entrants may use Metropolis II, the famous kinetic installation at the Los Angeles County Museum of Art, as an inspiration.
Other pie contests everywhere? We're not judging you. We are saying, though, that the Good Food Contest, set to roll at LACMA on Saturday, Sept. 8, is notably offbeat. And not; other categories, beyond the "inspired by Metropolis II" category, include Cream/Chiffon/Mousse, fruit, or nuts, and savory.
The contest is closed, but if you're a pie lover you're welcome to swing by that afternoon and try a slice or two, on a first-come, first-served basis. And there's an apron contest you can still enter.
In the spirit of all things sugary, we chatted up a contestant from last year about his experiences behind the rolling pin. Tim McKeon, who is quite the home baker, baked a strawberry rhubarb pie with a lattice crust (which sounds incredibly difficult to us, especially since he used tapioca as a thickener).
When we pressed the baker for insider info, he mentioned seeing a lot of apple as well as "a surprising amount of savory pies." His advice? "(E)nter the Cream/Chiffon/Mousse category. Or make a Metropolis-II inspired pie. Mr. McKeon's suggestion of "a lattice top with cars driving on the lattice" charmed us to bits.
His tip for the first-time entrant? "Wrap foil around the edge of your crust while cooking so it doesn't burn. And take time to talk shop with your fellow bakers. I got a lot of great advice last year and some interesting recipes. I always want to talk pie with people and here you are surrounded by people that can give as good as they can bake -- er, take."
Thank you for your words of wisdom, Mr. McKeon, and best of luck to all the bakers. Remember, more chiffon, which, we feel, is just a sound policy in life.
Follow NBCLA for the latest LA news, events and entertainment: iPhone/iPad App | Facebook; | Twitter; | Google+; | Instagram; | RSS; | Text Alerts | Email Alerts
Copyright FREEL - NBC Local Media