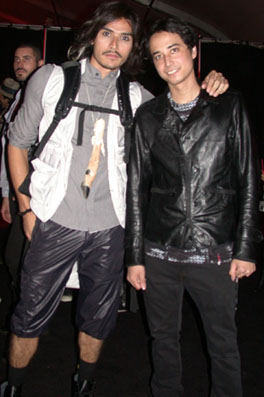 Standing with K.Z.O. designer Joel K (right), a model wears a deer-leg necklace; The Recycled Dead designers Whitney Pierce and Christopher Brunner
We thought we saw some sort of hooves around the necks of models at the K.Z.O. runway show, which was "inspired by Manzanar, the WWII Japanese interment camp in California desert." From CAN's Trade Talk blog, we get the lowdown on the taxidermy necklaces, which come from designers Whitney Pierce and Christopher Brunner of The Recycled Dead.
Among the pretty feather necklaces, there were deer legs, porcupine skulls, rattlesnake rattles, and chicken feet on the runway, all from the company's 'Road Kill' collection: "The pair created the collection of accessories made from dead animals out of their love for taxidermy, nature, fine art and road trips...Items used such as bones, teeth, feathers and claws came from creatures that either died from natural causes or less-natural causes such as cars—hence the name Road Kill." They cull their materials from animals they find themselves or via relationships they have with various Native American reservations. Brunner tells the pub: "They're doing the same things that we're trying to do which is preserving life and nature."
The Recycled Dead also has plans to expand into apparel "that will continue the recycled theme including recycled patterns and dead stock clothing."
· K.Z.O., Gen Art and the Recycled Dead [Trade Talk/CAN]
· LA Fashion Week [Racked Archives]For more stories from Racked LA, go to la.racked.com.
Copyright RACKL