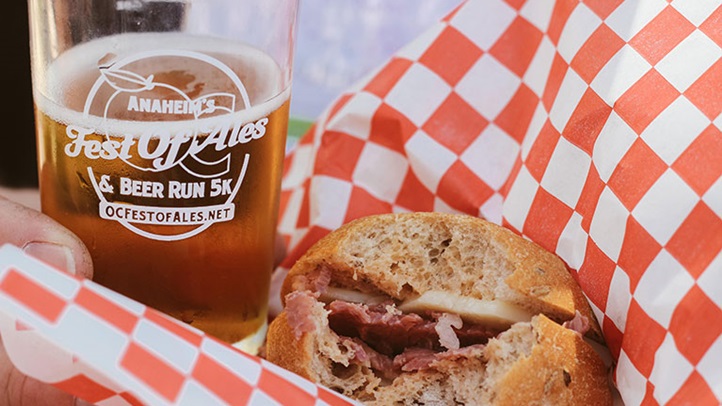 END-OF-SUMMER SIP: Every season has its familiar libation, from the cocoas of Christmas to the hot toddies of winter to mint juleps and lemonades and juices of spring and early summer. But what drinks, of an adult assortment, are most associated with that mellow, still-sunny, still-toasty period of summer skating into autumn? Ciders are an obvious choice, yes, but so are craft beers, which are both refreshing -- that represents the summer end of things -- and weighty of character, which invokes some of fall's serious approach. So finding a spot on the last Saturday of summer to get a little weighty-of-libation and refreshing-of-taste is paramount, but the organizers of Fest of Ales have once again done it. You only need to make for downtown Anaheim on the afternoon of Saturday, Sept. 19 to try "unlimited craft beer tastes" from some of the most-awarded, most-buzzy makers around. Oh, and there shall be...
"UNLIMITED GOURMET FOOD TASTINGS," too, because nothing is a friend to a deep-toned hopsy beverage like a pulled pork sandwich or a pile of gently salted fries. The who's who of breweries is substantial, and, yes, for sure, there are some cider cameos to be found; look for 2 Towns Ciderhouse, Barley Forge Brewing Co., Coronado Brewing Co., and Cismontane Brewing Company. On the edible, pair-up-your-suds-and-supping front? Look for Gypsy Den, Crepe Coop, Out of the Park Pizza, Umami Burger Anaheim, and Brandy's Sweet Temptations. Cost? You'll pay seventy bucks for all of this lovely unlimitedness, but be sure to bring along a couple of twenties to pay for your designated driver, too.
AND, FOR SURE... you should sip what you like to sip, regardless of season. Lemonade is fine in January and a hot toddy is, well, an offbeat choice on a sizzling July day. But if you like brew, and you want to raise a favorite IPA to the close of that most recreational, kick-back of seasons, finding a fine craft confab over the final week of summer just seems like a nifty thing to do.
Copyright FREEL - NBC Local Media