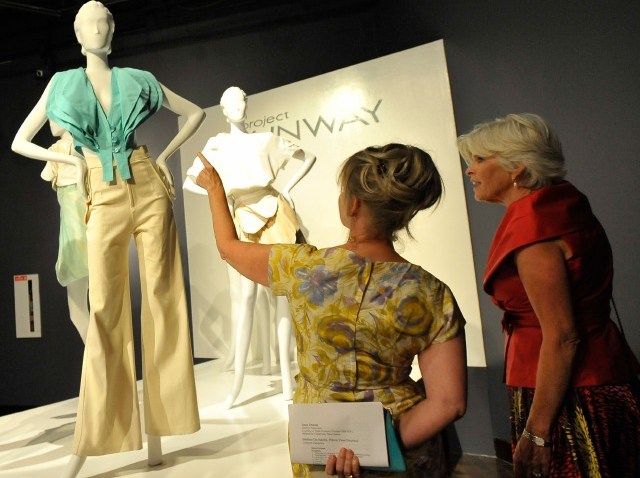 The gallery at the Fashion Institute of Design & Merchandising not only does it up every year, but it does it up twice a year, in the whole "let's put out a bunch of famous costumes from famous properties" department. Impressive. The fashion school rolls out actual costumes from a bevy of films each spring, and the same thing for television come summer.
The 4th Annual Outstanding Art of Television Costume Design exhibit tied the ribbons and frills on in July and, now, it is closing. Or will on Sunday, September 6th when costumes from "Project Runway" and "The No. 1 Ladies Detective Agency" and "The L Word" and "Grey Gardens" and "United States of Tara" -- plus lots more from more series and specials -- all return to their various studios and storage units and garment bags and places of long-term residency.
What you pay to stroll around and soak in the sartorial splendor: nada. Not bad. In fact, nice.
So this is a less-than-gentle reminder to make for downtown while the costumes on show. The FIDM gallery is open Wednesday through Sunday from 10AM-4PM. Parking is underneath the gallery/school. The wee gift shop near the entrance is plenty gifty. And again: the looking is free.
Thanks FIDM!
Copyright FREEL - NBC Local Media