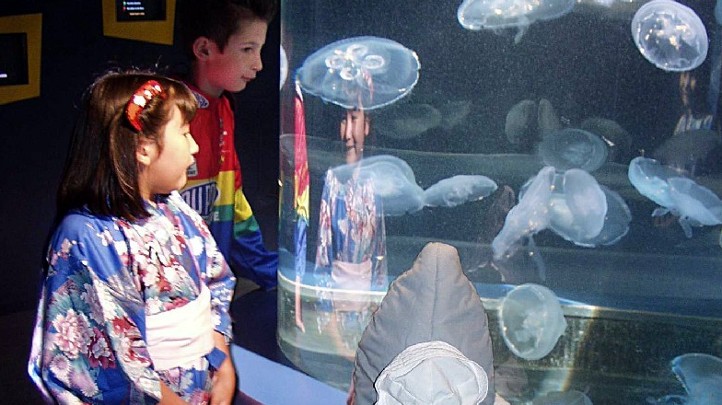 Be honest. There's only two ways to answer the question we're about to ask. Does your kid have her Halloween costume yet or not?
If not, you have a week and a few days to make something (we always like the giant tube of toothpaste or the classic ghoul). If they do have their costume, we're going to guess they've already tried it on, oh, seven times. A dozen? That sounds probably closer to the truth.
But have they worn it out in public yet? Here's a good first chance, and it has a bit of education thrown in to boot. Or perhaps "to fin" is the better way to phrase it. It's Scarium at the Aquarium time, which means that, on Saturday, Oct. 22 and Sunday, Oct. 23, the Aquarium of the Pacific will have a host of Halloweeny activities for younger visitors. Visitors who are most definitely invited to arrive in costume.
Your kid doesn't need a fish-themed outfit, we'll add, but golly, if he shows up dressed as a starfish? He'll wow people (no word, though, if the real starfish will recognize a kindred spirit; we hope so). You'll need to register for the costume contest, note, so get the info on that.
Admission to Scarium is included with admission to the aquarium. Oh, did we mention there are several other seasonal doings that are kid-perfect? Like underwater pumpkin carving? Can we type one more before we go? Because we can't stop thinking about it? Underwater pumpkin carving. Oh yes. That's on the Scarium event list. Underwater. Pumpkin. Carving. Paint us pre-intrigued.
Copyright FREEL - NBC Local Media