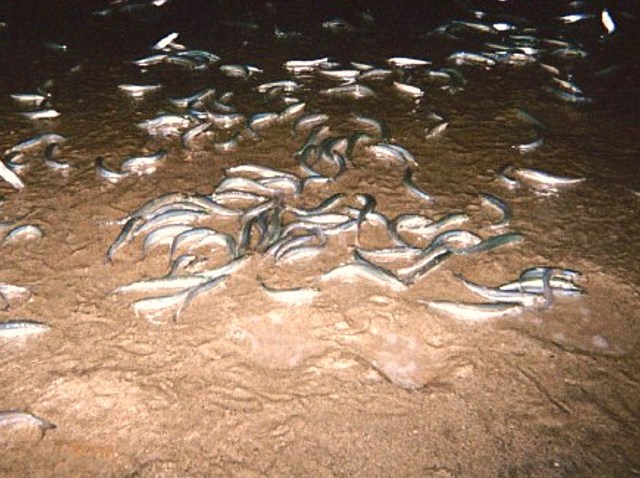 If only we could tell the grunion that weekend nights tend to work better for people who have to be at the office early on most week days.
But we can't update fish on the schedules of humans, and, honestly, that's all right. Because people should work with the fish, on a schedule they've been on for thousands of years. And the grunions' famous coming-up-onto-various-beaches schedule is getting going for 2011.
While the small shimmerers appear on sandy stretches up and down the coast, Cabrillo Marine Aquarium hosts the popular Meet the Grunion program over nine nights in 2011. Night one is Monday, March 7, and the final run will be on Saturday, July 16.
There's a weekend night, early-to-the-office people.
If you know your grunion, you know that the fish high-tail it onto land to spawn. When they do has much to do with the tide and our giant moonly satellite, so humans aren't in control. Again, a good thing. We can only turn up and admire, from a distance, a marvel of sea and land.
Cabrillo also offers a talk ahead of the the grunion-watching, note. And note you'll want to bundle up, especially on the earlier spring nights of the runs.
Copyright FREEL - NBC Local Media