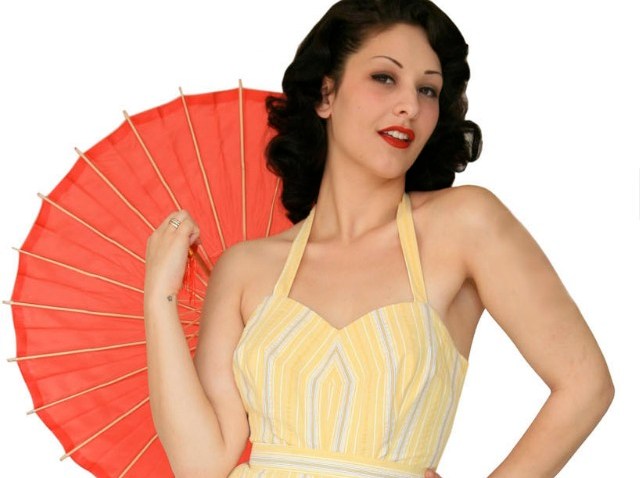 Oh, it's chilly and damp outside, no doubt about it.
But come Sunday, January 24th, temperatures are set to rise inside the beautiful Warner Grand in San Pedro. That's when the Grand Vision Foundation and the Art Deco Society of Los Angeles present "30 Years of Pin-Up: 1927-1957."
If you think this is simply a show where you'll stroll around in the lobby and peer at small photos, well, au contraire.
There's a full-on fashion show, with models sashaying in the push-up, be-pinned, pleated shirt and sateen gowns of yesteryear. We wish a lot of those things weren't always labelled "yesteryear," but rather this year. Perhaps this show can further promote the vintage cause.
Tickets are $35, $25 for members of both groups.
The cocktail reception kicks the pin-up proceedings off at 6PM.
There will also be actual costumes worn by the likes of Judy Garland and Ann Miller, plus more. Ann Miller, hearts in eyes. You don't need to procure a negliee from 1949 to wear to the proceedings, but you should really, at the very least, go for a sassy cloche or pencil skirt.
Feeling warmer. Much.
Copyright FREEL - NBC Local Media