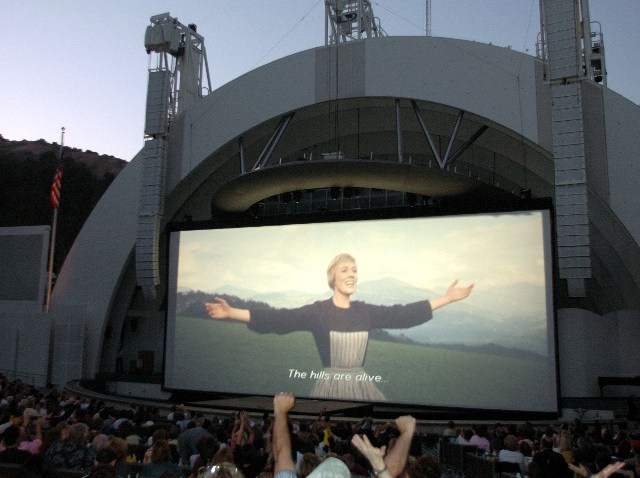 For a fan of "The Sound of Music" and a fan of sing-a-longs in general, there is a lot of love to lavish upon the annual voices-raised-in-"Edelweiss"-ery that goes down at the Hollywood Bowl every fall. For 2010, the special night is Saturday, Sept. 25.
Just so much lavishing love. And we find it hard to begin. Do we start with our affection for the bench-jumping scene in the gazebo? That Christopher Plummer, even when he's being stern and blowing his whistle at the kids, is a total sweetheart with his doe-eyed, Julie Andrews-directed glances? The fact that Bowl-goers dress up like it is Halloween night for this thing, year after year?
There are many places to begin. But since we've already begun, and now we're halfway through, we'll instead focus on the photo accompanying this post. It is an attendee, with fists pumping with victory, at a past sing-a-long. They are so frankly stoked about the opening of the movie they are literally making the double fist pump, with enthusiasm, apparently.
Double-fist-pump person, THANK YOU. Thank you for the gesture. You've done, in this photo, what so many of us want to do and feel inside. Double-fist-pump one of the greatest musicals of all time, and double-fist-pump the fact that we're gathering together at a legendary Hollywood spot to sing all the words to "My Favorite Things" and "Do-Re-Mi" as one giant unit.
Now, where are our shiny Plummer-esque boots and shiny Plummer-esque whistle? The big day draws near.
Copyright FREEL - NBC Local Media