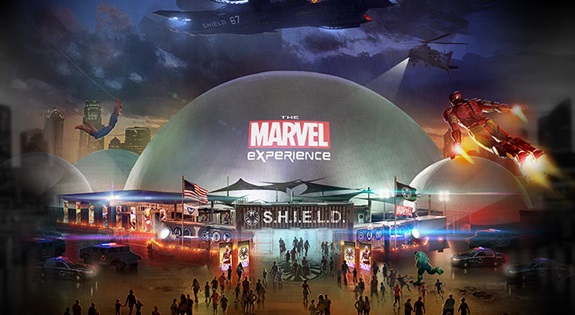 IF YOU WERE A SUPERHERO -- and we'll totally assume you are, because superheroes, by nature, do not go around touting their superherodom but rather read blog posts, stay current on newsy items, and go about their day-to-days, fully uncaped -- where would you go to present a mega splashy tech-of-tomorrow presentation of some of the most famous superheroes of all time? San Diego, is that place (we're sure you were also saying "San Diego" so forgive us if we interrupted you). The city, after all, is the shiny tights, shield-holding centerpoint of all things superhero, what with being the home of Comic-Con International. But given that so many superheroes are in town in July, for the pop culture convention, when would you make for the city? Well, maybe winter, and maybe you'd make for Del Mar, a smidge outside of the town, the better to present your superhero-y feats in full flower. That's just what The Marvel Experience shall do, in all of its out-sized, effects-impressive ways, when it flies its supersecret millionaire jet to the Del Mar Fairgrounds on Saturday, Feb. 7.
AND THERE IT SHALL STAY... for a fortnight, but just a fortnight, though it shall be a wowza two weeks. What's so wowza? It's a hyper-reality tour that has, as its centerpiece, "the world's only 360-degree Stereoscopic 3D Dome." (No joke: How do we get one for the den?) Other "interactive and immersive elements" fill out the attraction, which features a motion ride and dozens of Marvel icons.
AGENTS OF S.H.I.E.L.D. IN TRAINING: That's how guests are designated, so, if you're game, you'll "swing with Spider-man, smash with Hulk, fly with Iron Man" and participate in a number of righteous and totally rad superhero-y activities. The cost? The starting point is $27.50. The final wrap-up say bye-bye to Cap and Black Widow and Hawkeye? Circle Feb. 22 on your supersecret invisible millionaire jet's calendar, the one that you hang by the controls to keep track of all the cool comics-y stuff that lands in San Diego.
Copyright FREEL - NBC Local Media