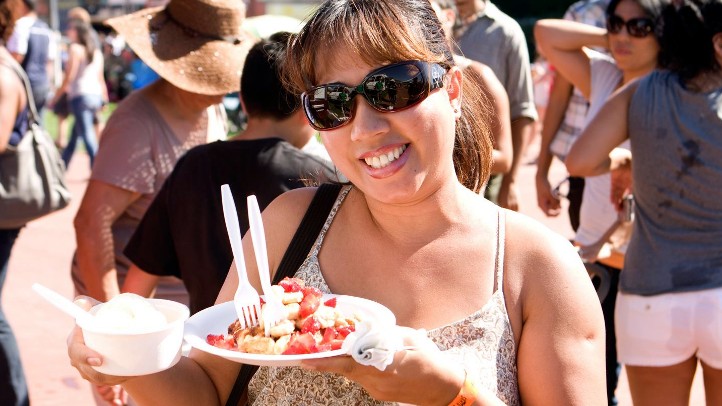 If you see a swallow in San Juan Capistrano, it is probably accompanied by other swallows, and it is probably late March.
If you see a food truck at Santa Anita Park, it is probably grouped with three or four dozen other food trucks. It is probably the end of January. And the weather, improbably, is probably distinctly summer-like.
We're not being cheeky in comparing a very old tradition with one that is very new, but the Santa Anita Food Truck Festival does seem to luck out in the great weather department; photos from last year show people wandering about in short-shorts, snacking away, and this year? The high in Arcadia on Saturday, Jan. 28 is predicted to be 80 degrees.
That means more shorts, more sundresses, a bikini contest -- hi, January/LA -- and a fascinator/fedora contest as well (which doesn't have as much to do with the sunny weather, except perhaps to keep the sun out of one's eyes). And, of course, some 50 food trucks. The players? Waffles de Liege, Nom Nom Truck, Brats Berlin, Lobsta Truck, to pluck four out of the fedora.
Besides the usually fine weather, people dig this particular truck party for its location: Santa Anita Park. But it isn't in the park's parking lot; oh no. You're on the in-field of the world-famous track.
Cost to get into the track is five bucks, which gets you into the festival (which will also features several beers for sale, too). Food and beverages are additional, of course. Your suntan is free.
Follow NBCLA for the latest LA news, events and entertainment: Twitter: @NBCLA // Facebook: NBCLA
Copyright FREEL - NBC Local Media