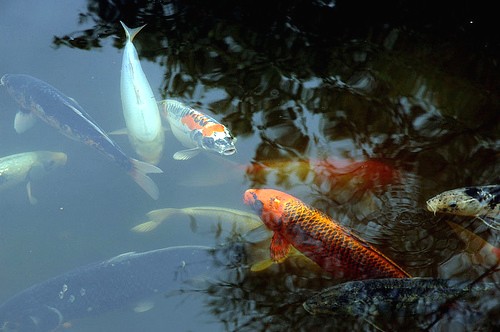 We're trying to picture the "WE'VE MOVED!!!" card now.
The Disneyland Hotel on one side. The Huntington Library, Art Collections, and Botanical Gardens on the other. Will any of us ever move between a pair of such impressive, world-famous addresses?
Of course, the movees, having fins and lacking pens, probably aren't sending out cards. Some 250 koi just made the journey from Anaheim to San Marino, where they will now frolic about in the Huntington's Jungle, Japanese, and Chinese Garden pools. The Disneyland Hotel is due for some renovation work, and the koi pond was going to be impacted.
So voila: The Disneyland Hotel ring-a-dings the Huntington, the koi get a new home. Done. Don't you love when landmarks chum up? We do.
The koi did not swim up the 5. Nor did they take various channels and the LA River to get to the Huntington, although we think there could be animated movie in there somewhere.
You can see pictures from the fishes' moving day here. And the Disney Parks Blog has more about the hotel's gill-laden gift.
Copyright FREEL - NBC Local Media