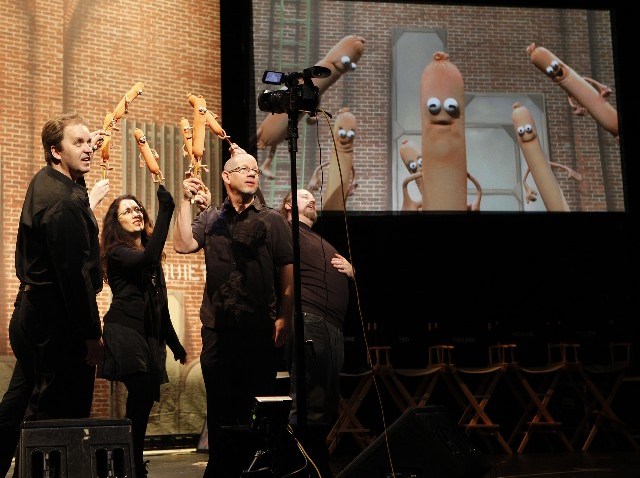 Is there some sort of foretelling or prophesy that, if you talk or read about a Henson Company event or property three times in the days just ahead of the new year, something marvelous and magical is sure to follow?
If there isn't, we're ready to scribble this rule into the side margin of "The Official Book of Happy Foretellings and Prophesies," and in permanent pen, too. We just were mooning over things of an "Emmet Otter" and saber-toothed cat nature -- "Emmet" played at the Silent Movie Theatre on Christmas, and the Natural History Museum is featuring a realistic Henson puppet in its Ice Age exhibit -- and now we have something else Hensonian to talk about.
It's "Stuffed and Unstrung," it is in Irvine for five short days, from Wednesday, Dec. 29 through Sunday, Jan. 2, and we just want to type "see this production" 20 times in a row. That is, see this production if you like improv and/or puppet shows that are strictly for adults. You do, right? It is nearly impossible not to. Only the hard of heart and soft of humor doesn't.
"Stuffed and Unstrung" played in New York City awhile back and the smoking raves there pretty much wilted the felt right off the puppets. (Are Henson puppets still felt? Maybe not. Maybe we're thinking Kermit circa 1972.)
Anyhoo. "The Official Book of Happy Foretellings and Prophesies" foretells that this show is a fine and funny and grown-up and improv-mad way to finish off 2010. We always try and finish off our years by laughing along with saucy-mouthed, hot-to-trot puppets. You?
Copyright FREEL - NBC Local Media