We'll get to all of those beignets and bowls of gumbo you'll be consuming in two shakes.
First off, though? We'd like to commend the annual Original Farmers Market Mardi Gras party for doing something that not a lot of Mardi Gras parties do. Nope, we don't all jet down to New Orleans, courtesy of the public marketplace. And nope, outlandish floats don't drive through The Grove.
But Farmers Market does keep true to the spirit of Fat Tuesday by throwing a multi-day bash. That's like New Orleans, right, where the Fat Tuesday party actually caps on Fat Tuesday. Few other Mardi Gras to-dos actually go beyond a one-day thing.
And those days, in 2012, will be Friday, Feb. 17 through Sunday, Feb. 19 and again on Tuesday, Feb. 21. The party, like all Farmers Market bashes, is free. Meaning you soaking in the foot-stomping live music and the catching of beads won't cost a dime.
Costing a dime, or, well, some dollars? The food. Everyone goes to the Gumbo Pot on the West Patio, so let's make no bones about that. They're there for gumbo and beignets and po boys and all the savory Louisiana staples.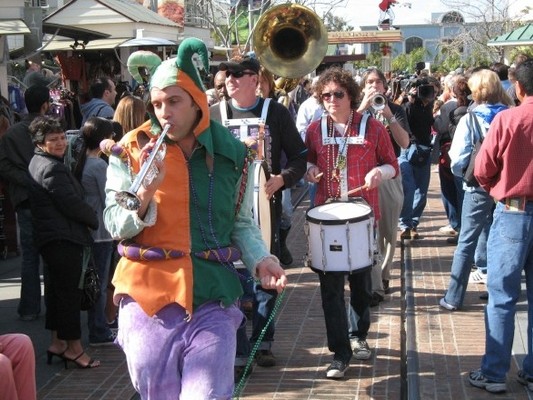 If you want the beads and kid activities and the pet parade, hit the weekend days (the pet parade is on Saturday, note). The Friday and Tuesday night parties'll focus on the tunes.
One last thing to say. The last two Mardis we've been to at the Market have given us this special gift: impromptu dancing. We're not saying that, if you go, you'll see someone suddenly stand and start stomping a foot, but we've now seen it twice.
Spontaneous clapping and swaying? Seen only in movies, and at Third and Fairfax, too.
Follow NBCLA for the latest LA news, events and entertainment: Twitter: @NBCLA // Facebook: NBCLA
Copyright FREEL - NBC Local Media