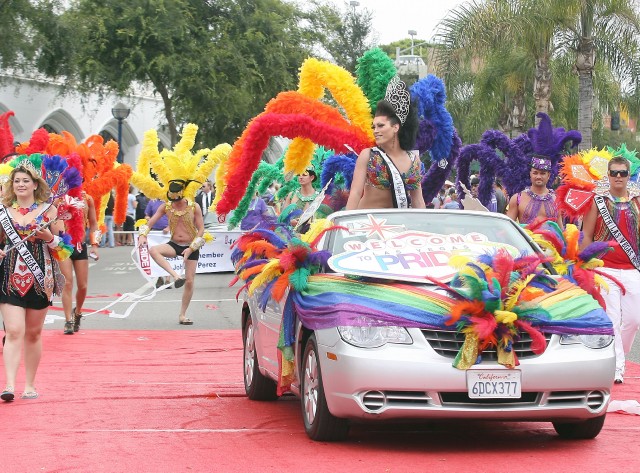 This is not the kind of birthday where a mere three-minute phone call will do.
This is a big birthday. A major birthday. This is the birthday where you take that special someone out to dinner. Maybe a weekend away. And Los Angeles Pride, we would, if we could. Because turning 40 is something so fine.
The very first LA Pride, says LA Pride, was on June 28,1970. The LGBT community looked back, together, and remembered what happened at Stonewall in New York the summer before.
Fast-forward 40 years. Pride has continued to blossom, and now the annual long-weekend party happens every June in West Hollywood. The 2010 celebration happens Friday, June 11 through Sunday, June 13. (Note that the festival dates are Saturday and Sunday.) There will be thousands of people in costume, and not in costume, but all will be in a convivial, come-together mood. There will be star-sightings. There will be bands and booths and parading and pups and pups in costume and pavilions and banners and badges.
Pride, in short, will be much on display. The 2010 Grand Marshals are Sharon and Kelly Osbourne. Kelis, Kelly Rowland, Martha Davis and the Motels, and En Vogue will be singing (as will many other acts). And that amazing and world-famous parade that, if you don't join, you should definitely cheer on? Steps off on Sunday, June 13 at 11 a.m.
LA Pride is presented by Christopher Street West.
Copyright FREEL - NBC Local Media