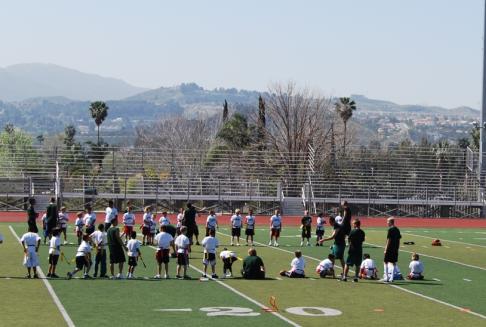 Over two-dozen Canyon High School football players and alumni will be volunteering as coaches for the Third Annual Kozak Football Camp -- a free introductory gridiron camp for boys 8 to 11.
It all starts Monday, April 4 and concludes Thursday April 7, 2011. The camp is free, and will take place at Canyon High School in Santa Clarita. It's drop-ff and pickup every day.

The camp normally accepts 100-120 kids, all who enroll on a first-come, first-serve basis. Local businesses provide free lunches, and the school athletic department donates the field and all their equipment.
There are 40 spots left for this year's camp.
Three years ago, Canyon Linebacker Taylor Kozak headed President Obama's Call for Service, and created the program to help families who weren't able to send their children to camps during this difficult economic climate.
Although Kozak is graduaitng this year, fellow linebacker Garrett Miller, a junior, has stepped up to run the camp next year.
Contact Taylor Kozak at kozakfootball@yahoo.com for details.