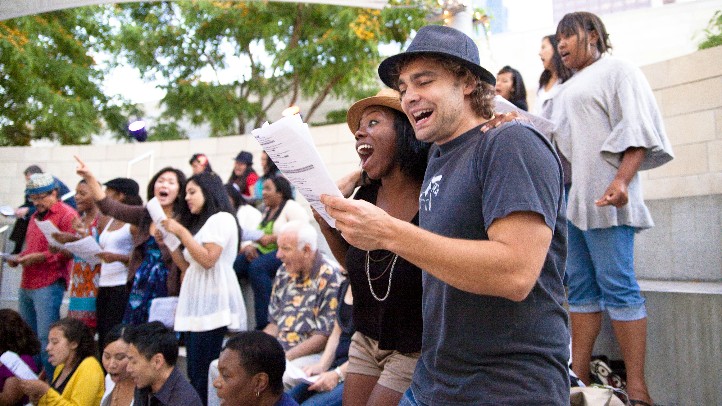 Television shows about singing, whether they be reality or scripted, are rather popular right now, you may have heard.
Which means that when a chance comes along to warble one's heart out at a world-famous auditorium, or at on the world-famous auditorium's grounds, rather, and that chance is free, well. Many people are pretty dang chuffed.
And several chuffed warblers will be out and pushing their pipes to the limit at Walt Disney Concert Hall on Friday, June 22. That's opening night for Friday Night Sing-Alongs, the three-times-a-summer tradition that allows in-the-car singers to try their talents out, via beloved tunes, in a public forum.
It's at the Keck Amphitheatre outside Disney Hall and it is free.
So, what's the theme on night one? It certainly fits the location: Disney tunes. Friday, July 20 is all about Motown and Friday, Aug. 17 puts the spotlight on the songs of Broadway.
If you know past Friday Night Sing-Alongs, you know they run the gamut from "Glee" to "The Beatles." And the summer of 2012 should be equally as lively.
Oh, and if you want to stay downtown on June 22, and you're in a festive mood, check it out: The LA Film Festival presents a Dirty Dancing Dance-A-Long at California Plaza at 8 p.m. Oh, free things ending in "a-long or Along," we do love you so.
Follow NBCLA for the latest LA news, events and entertainment: iPhone/iPad App | Facebook; | Twitter; | Google+; | Instagram; | RSS; | Text Alerts | Email Alerts
Copyright FREEL - NBC Local Media