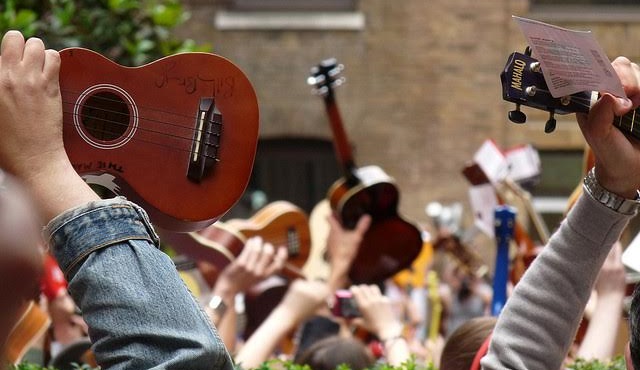 A SOLSTICE SALUTATION: Greeting the longest day of the year come June 21 is something that's done around the world, or, at least, the Northern Hemisphere. But the many ways in which the solstice is marked can vary widely and wonderfully. Some people rise at dawn to say hello to our nearest star, some host a picnic or feast at high noon, and others push into the evening hours, when sunset arrives at its very latest point. And while individual and family celebrations enchant, those communities and towns that do something special on the solstice are worthy of note. Take Fullerton, which shall pause on Sunday, June 21-- a date that also doubles as Father's Day, we should absolutely say -- to play some tunes. Make that a lot of tunes, of all sorts, in many places. It's The Day of Music, a free, pay-nothing, come-one-come-everyone festivity that'll spread out throughout the city, in all quarters.
THE DAY OF MUSIC... welcomes dozens of acts -- over 150 in all -- and viewers can expect a veritable cornucopia of sounds, instruments, and approaches. Will there be harmonica playing? For sure. Will the ukuleles make a showing? Yes. Will you hear harps and flutes and guitars and voices raised in joyful song? You will, if you wander among the locations (several of which are local landmarks). The venues include Black Hole Records, Hillcrest Park, Fullerton Museum Plaza, the Muckenthaler Cultural Center, and Steamers Jazz Club.
FÊTE DE LA MUSIQUE: While you enjoy the vibes produced by local musicians, consider how your experience will be connected to other people around the world. June 21 is known as World Music Day, or Fête de la Musique, if you prefer, so as you stand on a street corner listening to some drums, ponder that people on another continent may be doing the very same thing at the same time. For a planet that shares a single star as our source of light, and marks the longest day of the year, it feels pretty darn together-y, as most events go.
Copyright FREEL - NBC Local Media