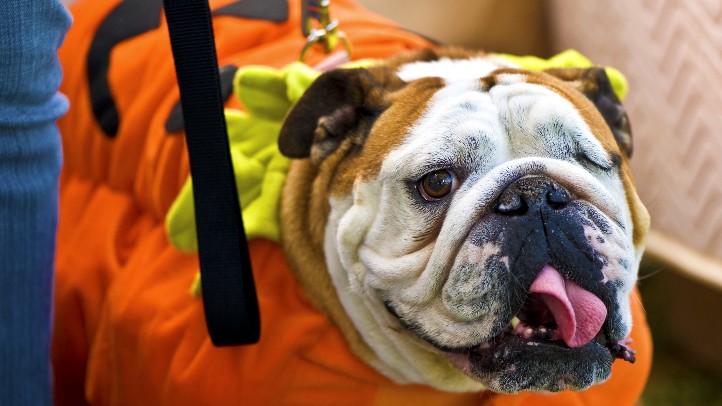 Every year there's a spate of articles on how much Americans spend on Halloween. It's increasingly substantial; the word "billions" has been coming more and more into play. Which make the free events surrounding the holiday all that much more intriguing. We're for the big, splashy ticketed things, too, but sometimes we just want to pocket our cash and go to...
THE HAUTE DOG HOWL'OWEEN PARADE: It's one of the nationally famous costume dog parades. Why is that? Well, it has been around for over a decade. People really go all out with their mutters' togs. And over 500 dogs regularly show up. It's in Long Beach, the parade covers 12 blocks, and it costs to enter your pup. But watching? Completely free. Sunday, Oct. 30
PRICE-A-THON 100: The Los Angeles County Museum of Art is marking the centenary of Vincent Price with a full afternoon and evening of gleeful, candy-colored horror classics on Sunday, Oct. 30. You've seen "House of Wax," yes? But are you acquainted with "The Tingler"? We pre-doff our cap to anyone who commits to all six screenings.
"MUNSTERS, GO HOME": Grandpa and Herman and the gang are a huge part of the Halloween scene. So we love that the Hammer Museum is showing this 1966 flick, for free, as a part of their Family Film series. Do your kids know the Munsters? They probably should, certainly if you adored them when you were a tot. Eight-and-over is the recommended age. Screening is at 11 a.m. on Sunday, Oct. 30
Copyright FREEL - NBC Local Media