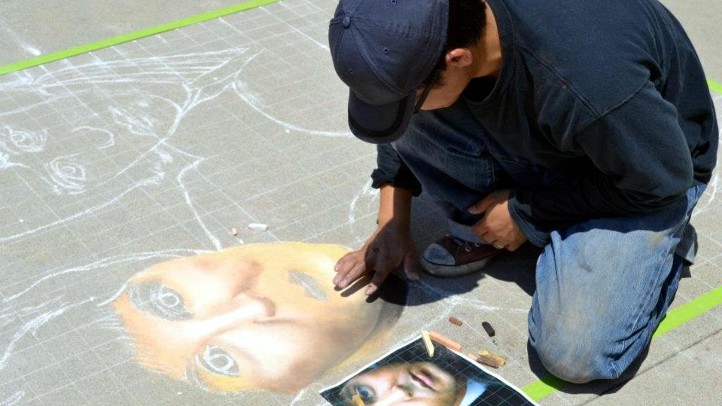 People who don't live on or near the beach have a tendency to glamourize a Saturday spent strolling within shouting distance of the shore. They imagine perfect sunlight and slightly damp breezes and gull cries and surfers sitting on boards, way out in the waves.
The thing is, unlike most daydreams, this is all pretty true. If you've ever visited the Malibu Arts Festival, which sets up shop on Civic Center Way on Saturday, July 28 and Sunday, July 29, you've experienced much of this scenario; definitely the perfect sunlight and slightly damp breezes. You've experienced spending a day out in one of the world's quintessential tony towns without spending much money. And you've likely headed home with a pretty pot or painting.
Malibu Arts Festival is one of Southern California's older artist gatherings -- it marked four decades last year -- meaning that some 200 creative and talented people now show up to sell their wares. Even if you don't purchase anything at the free festival, it's a pleasure to stroll the aisles. Remember we mentioned the damp breezes? Perfect sunlight? Yeah. Those are free, too.
There is also some limited free parking, but if that fills up you'll pay ten bucks. Still, ten bucks for a day out in Malibu? You'll want to brag to the out-of-towners about where you spent your day. They love that.
And nope, the festival isn't right on the beach, but close enough. That's okay; just make for the sand before or after visiting the fest. You need to fuel those beach-based daydreams for a few months to come, right? Inlanders need to dip their toes in the foam every now and then, just as a reminder that our neighbor just happens to be a major ocean.
Follow NBCLA for the latest LA news, events and entertainment: iPhone/iPad App | Facebook; | Twitter; | Google+; | Instagram; | RSS; | Text Alerts | Email Alerts
Copyright FREEL - NBC Local Media