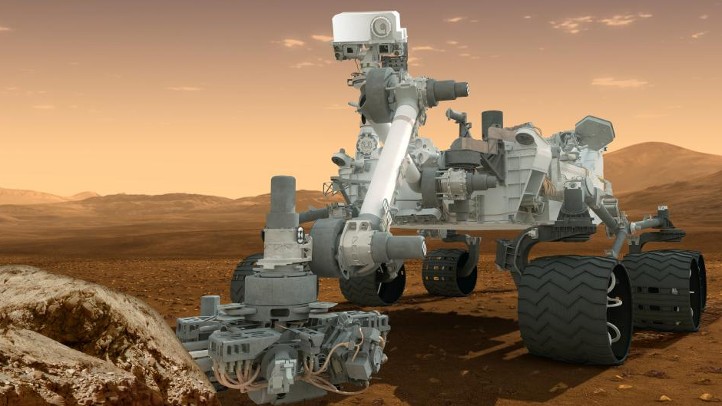 Stirring up controversy among hardcore Rover fans? We'd never do it on purpose.
But if you're like us, you like to think about how earthly devices that are sent into the cosmos come about their rather poetic names. And of all the Rovers that have visited a certain red planet, we're loving the newest name best: Curiosity.
Because isn't curiosity what it's all about? A continued, space-focused wonder? If you're with us, and you'd love to watch a live feed of the NASA Curiosity Rover alighting upon Mars, the Griffith Observatory has you covered. Of course. Griffith Observatory, what would we do without you?
The viewing will be on Sunday, Aug. 5 at 10:31 p.m. PST. (What is that in Martian time? And what does a Martian clock look like?)
There will be commentary, too, by knowledgeable staff members. You can watch online, too, but what fun to be there amongst your Mars-loving peeps late on a school night.
There is a caveat -- shuttles up the hill stop at 10 p.m. and the gates to Griffith Park'll be locked up around then, too, so make sure you get up there early enough and don't get locked out. Because seeing the Mars landscape from your car? Pretty challenging.
Two last things. One? We do love Sojourner and Spirit and Opportunity and the other Rover names, so no Rover-name dissing here; we're just especially sweet on Curiosity. Plus? A sixth grader named it in a naming contest. Sweet, right?
And two? Isn't it sort of wonderful that the building most associated with space-watching in our town has the initials G.O.? Talk about the poetic.
Space and poetry, you both rock.
Follow NBCLA for the latest LA news, events and entertainment: iPhone/iPad App | Facebook; | Twitter; | Google+; | Instagram; | RSS; | Text Alerts | Email Alerts
Copyright FREEL - NBC Local Media