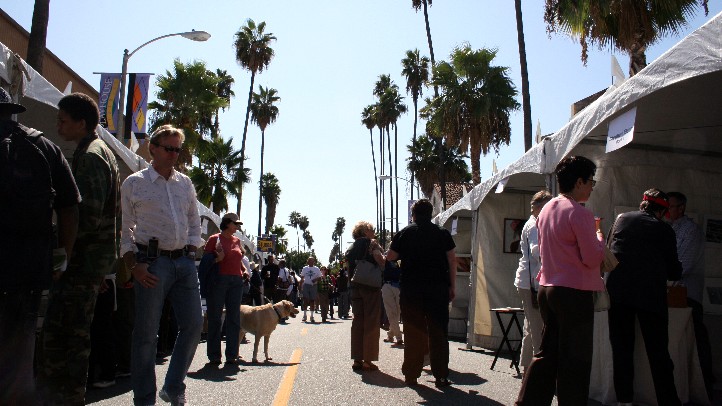 Sometimes numbers tell a story in a fairly succinct manner, so let's start there with Pasadena ARTWalk.
October 15. Okay, that's not really a number, but a date. We acknowledge that. But that's when ARTWalk is happening. It's a daytime thing, so look for the booths to be out from 11 a.m. to 5 p.m. around 39 S. Molino.
It's year six for this Playhouse-backed, painting-filled gathering. Some 3,000 works will be displayed. And the price to attend? Zero dollars. We do like to see the word "zero" before the word "dollars."
And how about 6,000 for a number? Pasadena ARTWalk is billed as "the city's largest urban art fair," and figuring that about 6,000 people show up, that feels about right. But the event isn't simply setting up the booths and waiting for attendees to come and stroll. The Pasadena Museum of California Art is waiving its admission fees for the day, and several family-nice activities will be set up in the area.
Art-chatting and music-playing and gallery-looking is also on the roster.
The day looks to be fine and warm and fall-y. Yes. We want to be in Pasadena and we want to be adjacent to art and the artists who make art. And now we want to type "zero dollars" again for good measure. Zero dollars. It's free, so go and enjoy.
Copyright FREEL - NBC Local Media