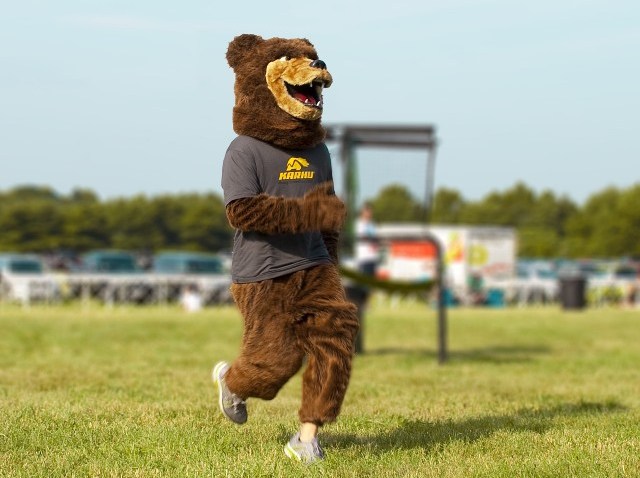 There must be meaning or a metaphor in the fact that the Golden Globes and the 13.1 Los Angeles Half Marathon fall, with regularity, on the same day.
In one corner you have people who regularly wear costumes accepting awards. In the other you have people attempting to outrun a person in costume for a good prize.
Costumes are the common theme, maybe, and maybe ambition and dedication. But is there ever a bear at the Golden Globes? Should there be? We vote yes. (Not a real bear! Maybe Clooney in a bear suit? Yes.)
There is faux beastie at the Karhu 5K, which is part of the 13.1 Los Angeles half marathon. A bear -- okay, spoiler alert, a person in a bear outfit -- attempts to run faster than the 5K runners. The ten runners who beat him to the finish line get a coupon for a new pair of Karhu shoes. Nifty. Or, um, we mean, rrawr, bear-style!
The half marathon and 5K are scheduled for Sunday, Jan. 15.
While the bear gets the lion's share of attention -- er, bear's share, rather -- the colorful run has other hallmarks. Fire dancers, cheerleaders, tunemakers, and other entertainers turn out to keep the athletes revved.
The course is slightly new this year, but still starts in Venice.
One more thing to mention: First-timers are welcome. If you've been thinking of doing a race, what with the new year's resolutions and all, this could be for you. You don't have to outrun the bear on your first go, but, you can certainly make a valiant effort. If only there was a guy in a furry suit running ahead of us in all of our endeavors; wouldn't we strive harder?
Follow NBCLA for the latest LA news, events and entertainment: Twitter: @NBCLA // Facebook: NBCLA
Copyright FREEL - NBC Local Media