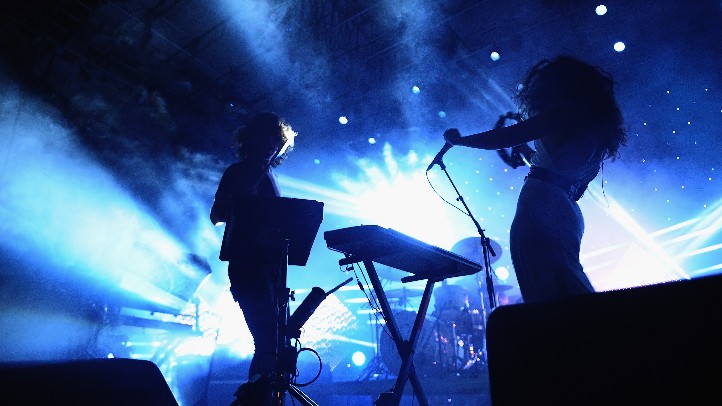 Maybe one day our city, and state, will get a large music festival or two, the kind that attracts bands on the cusp and bands who've seen the cusp and bands who've heard the cusp might just be down the block, a little further, beyond that one building.
But we're totally joking here, of course; California, and, let's be honest, Los Angeles, practically invented the cusp in terms of creative ventures; bands looking to break come here, almost always. And our state also owns the music festival, practically, what with Coachella and Outside Lands. And, of course, the ever-growing FYF Fest, which is all about the beauty of those music-makers on either side of the cusp.
FYF Fest is set to launch again over Labor Day Weekend, on Saturday, Sept. 1 and Sunday, Sept. 2 at LA State Historic Park. Who's playing? Everyone cool. (If you're cool, and you're not playing, take heart; you may one day.) M83'll headline Sept. 1 with Refused, while The Faint and Beirut are centerstage on Sept. 2. We're also fangirling over James Blake, but you can fangirl/fanboy over whatever act you like: Here's the act-filled poster to get you started.
A weekend pass kicks off at $89, and, as with any large outdoor music festival, there's some light studying up required on the logistics. Metro'll run late both nights, to cart revelers out and away. There's stuff to know about what you can bring in. Et cetera and so forth.
Monday's shuttered, at the park, so don't show looking for a third day of the festival. The two days'll both run close to twelve hours each, and if you can't get your alt-electro-awesome dance-listen on during what amounts to a full day of outdoor music and music-loving throngs, we don't know what else to tell you. We think you can.
Follow NBCLA for the latest LA news, events and entertainment: iPhone/iPad App | Facebook; | Twitter; | Google+; | Instagram; | RSS; | Text Alerts | Email Alerts
Copyright FREEL - NBC Local Media