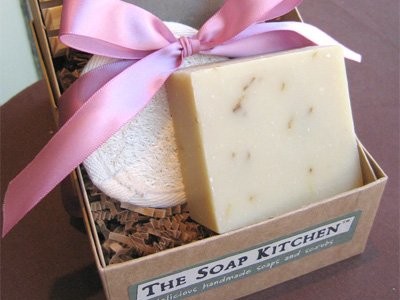 THE SOAP KITCHEN: There are many things to like about this Pasadena-based house of suds, but we're sweet on the soap subscriptions. Think chili or fruit of the month. The scents, like Kahlua Coffee Bar with Shea Butter, also intrigue, as does the Chocolate Mint Lip Balm.
SOAPTOPIA: Thoughts of smell-yummy handmade soaps, candles, and bath-y goods (salts, bubbles) are making us relax. That the Mar Vista bath shop also sells something called "Oil Slathers" delights, particularly the Lavender Schmavender. Is this the first time we've seen the use of "slather" on a body product? It might be.
NOT SOAP, RADIO: The West Hollywood get-squeaky shop has lots of gift bottles of bath/shower gel for the bridesmaid or teacher or babysitter (complete with festive label). There's also a Four-Leaf Clover bubble bath that might be just the thing for your friend facing that important job interview. Soak your way to your next paycheck? Here's hoping.
Copyright FREEL - NBC Local Media