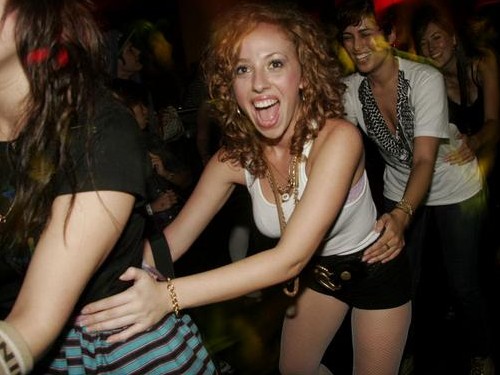 Me decade? Oh yeah. We're pulling on our "follow your dreams" unicorn shirt and velour dolphin shorts and making for...
Down and Derby: The sexy old-school skate party hokey-pokeys back into the Echoplex. You'll be going, and you'll be decked out in stretchy wristbands, glittery skate laces, a baby blue windbreaker, short shorts, a Band-Aid on each knee. Yes? Good.
We like how frequently this funky-lowdown glide-it-up has been returning to our city, and we like when it has a twist, as it will on the evening of Thursday, September 17th. Down and Derby's hooking up with Fox Searchlight over by the candy counter with one express purpose: to party for "Whip It," the new Drew Barrymore-helmed derby flick. So, there's a bonus: Down and Derby is dropping to 18+ for the night instead of 21+. Memo to people who are 19: go.
Wait, did you borrow our pink culottes? Give 'em back. And you still owe us for that slushie.
ALSO:
Truckathon: Breaker, breaker, can you handle five -- we're putting some sparklies around this one -- ***five*** -- big-rig movies in a row? The New Beverly's goin' back to the '70s and '80s, that era of bandits and CB radio and hijinx-laden, asphalt-flavored adventure. The "Smokey" series is not running, we should mention, but era-loving movies like "Road Games" and "CB Hustlers" are. Everything starts at 4:15PM on Saturday, September 19th and goes well into the early hours of Sunday.
But sometimes you've just gotta drive, drive into that deep night. You'll be in Tampa by morning, or Omaha. Or at least wherever you parked your car on Beverly Boulevard.
Copyright FREEL - NBC Local Media