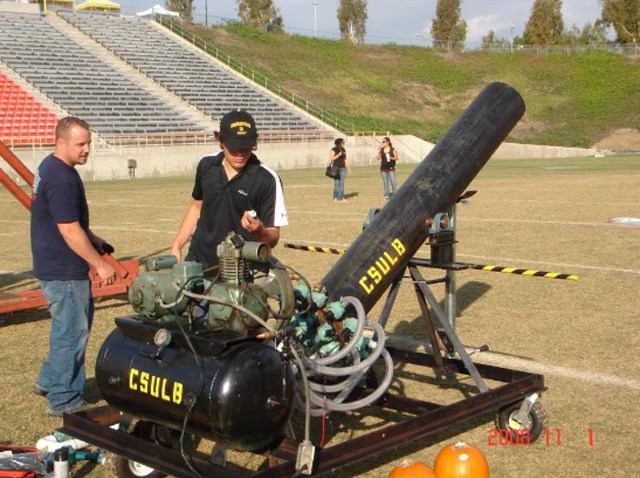 You've been waiting all year for this, and now that it's finally here, will you be ready? You better, because the 2010 Pumpkin Launch is here.
Cal State Fullerton will host the event that runs from Saturday at 9 a.m. to about 12:30 p.m., according to the schools website. The Pumpkin Launch is sponsored by the Discovery Science Center.
The event will include demonstrations of medieval weapons and everyday technology by representatives from the Orange County-headquartered Kingdom of Esperance.
Engineers will answer questions and help children build and use their own small catapults, Alka-Seltzer rockets and small-scale potato launchers. Children can compete in tower building, paper airplane design and flying, and marshmallow launching. Music and entertainment will be provided and food booths will be open.
Student teams from the university, area high schools and engineering corporations will launch pumpkins weighing up to 10 pounds at targets with catapults, trebuchets, large slingshots and other homemade devices.
The event is designed for all ages and promises to be just as entertaining as previous years.
The Pumpkin Launch will be held at
Cal State Fullerton's Titan Stadium
800 N State College Blvd.
Fullerton, CA 92834
For more information, visit Cal State Fullerton's website, or the Discovery Science Center's website.
Let's just hope this has a better end than that Amazing Race challenge did earlier this year.