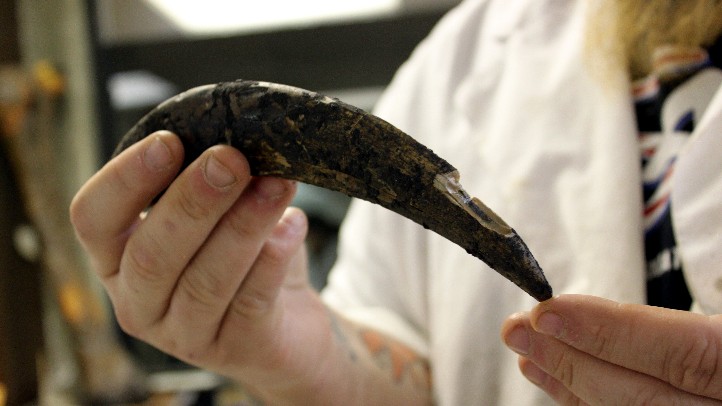 However long you claim you sat at on the 405 last night? The mammoth bones under the La Brea Tar Pits have been there longer.
However long you say that last movie you sat through was? The unearthed dire wolf skull sat beneath Hancock Park for more time.
However long -- well, you get the point. There is no comparable time comparison between what we do in our day-to-day lives and the timeline of a fossil. Fossils clock in millions of years, changing incrementally but still revealing loads of facts and tales for modern-day paleontologists.
They also get their own national day every year, too. Nope, eons-old bones will not be getting a parade down Wilshire Boulevard to celebrate, but the Page Museum will mark National Fossil Day on Saturday, Oct. 13.
While every day is pretty much fossil day at the tar pits-adjacent institution, fossil-smart scientists will be out, chatting with fossil fans, during the day, explaining how a femur might be read or how very, very tiny bones might be found in a scoop of dirt or debris.
Junior paleontologists will also get the spotlight, too, lest you think the event is solely adults-orientated. It is not, which makes sense, especially since every kid on the planet can remember holding or seeing their first fossil. (We were 5 and it was a sea anemone; see what we mean? Kids remember.)
Regular admission to the Page gets you into any fossil-y haps. Oh, and should we also mention? That big saber-toothed cat puppet'll be around the museum, too, that day, if you've been wanting to catch a show. Meow.
Saber-toothed cats meowed, right? At least the kittens?
Follow NBCLA for the latest LA news, events and entertainment: iPhone/iPad App | Facebook; | Twitter; | Google+; | Instagram; | RSS; | Text Alerts | Email Alerts
Copyright FREEL - NBC Local Media