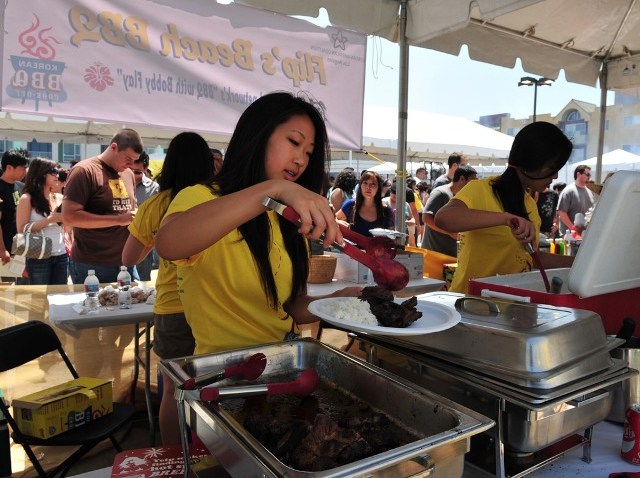 If you've been to any of our city's huge, outdoor, often-food-truck-ringed eat-a-thons in the last year, you know that Angelenos, when presented with all sorts of delicious dishes, are ones for turning out, in force, with forks in hand.
You will also not be surprised to learn that over 10,000 people attended the first Korean BBQ Cook-Off last year. Was it the galbi, or beef ribs? The succulent marinated sirloin, called bulgogi? The competitive spirit of the day, or the chance to see foodie stars like writer Jonathan Gold?
It was everything and all that, we imagine (although bulgogi probably has the strongest pull of all, we'll wager). Now the Cook-Off is back in Koreatown for a second go-around, on Saturday, Aug. 7, and we will not be surprised, given the large, small-plates-desiring crowds turning out for alfresco food events as of late, if the Cook-Off's impressive attendance record is broken.
Mr. Gold is back in 2010 to do the judging honors, we should note, along with actress Sandra Oh and Ludo Lefebvre of LudoBites.
It's free to get in, small plates run about $5, and there will be a beer garden and soju sips. The address is 3600 Wilshire, in the upper parking lot. Or follow the savory aromas of bulgogi. They will lead you.
The day is presented by the Korean American Coalition.
Copyright FREEL - NBC Local Media