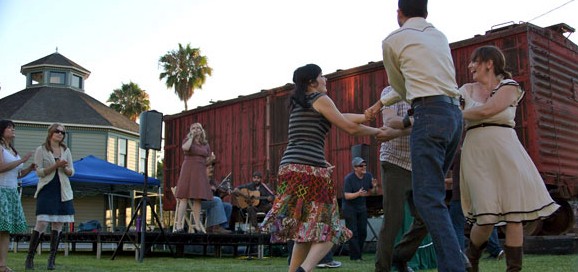 Your last square dance may have been in the third grade or it may have been last night. It matters not; Heritage Square is still doing the big-hearted, come-one-come-all for its annual square dance day. And that day is straight ahead on Saturday, Aug. 27.
Meaning now is the time to dig out that red-checkered shirt and banana-yellow kerchief and polka-dotted crinoline skirt. And if you have none of those things, and plan to show in jeans and a tee, why that's okay, too. It'll be an easy-breezy sort of event, where both beginners and advanced dancers will rub shoulders (sometimes literally). Triple Chicken Foot will be at the fiddles and guitars, and there will be a contest spotlighting the baking of fruit pies.
The baking of fruit pies. We find that concept to be instantly transporting.
Cost is five bucks. Time is 5 p.m., which is just this side of evening, in our book. A soft evening and crinolines and rhubarb inside a flaky crust and fiddles. Oh, and all the historic structures of Heritage Square as the memorable setting. We're digging out our kerchief this instant.
Copyright FREEL - NBC Local Media