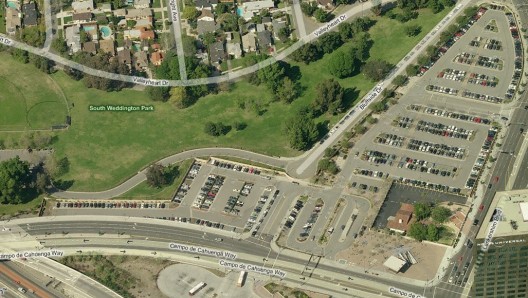 If you don't get to the Valley much, it can be hard to understand the scale of that controversial Metro/Universal project, a $3 billion, 34-acre project that would put up office towers, residential towers or hotels, retail, and many, many parking spaces. And since no renderings have been released yet, a visual aid (click on the photos for street descriptions) awaits. Stare hard at this area because it's ground zero for those who oppose this project (notably, politicians like Tom LaBonge). And after the jump, more details via Streetsblog: Phase 1 would be completed by 2011 and phase 11 would be done by 2015. Additionally, Streetsblog notes that the environmental impact report for the Universal City Vision Plan should be released shortly.Photos: Dan Caroselli
Via Streetsblog, more information about the development:
* Phase I, to be completed by 2011, would include 1.47 million square feet of new commercial and residential space in a 24-story office tower and a ten-story production site; and two parking structures: one with 1,900 and the other with 1780 spaces including 800 for the Metro Station.
* Phase II would be completed by 2015 and would include either a 24-story office tower OR a 34-story hotel and residential project with 300 hotel rooms, 400 residential units, up to 11,000 square feet of retail and almost 1,800 parking spaces.
· LaBonge Rallies the Troops Against "Metro Universal" [Streetsblog]
For more stories from Curbed LA, go to la.curbed.com.
Copyright CURBL