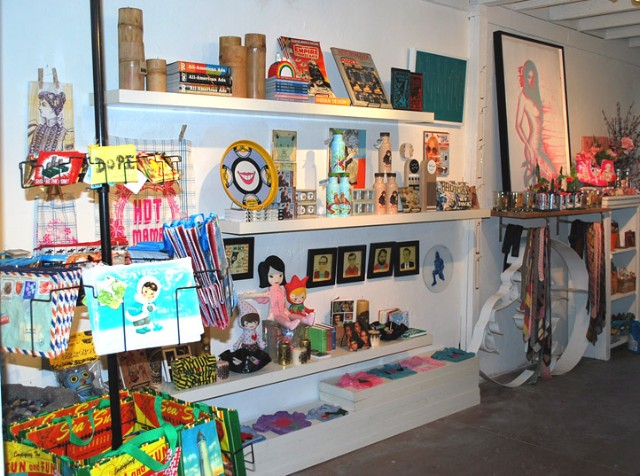 We're sweet on Ghettogloss. Not only does this arty-art-but-for-all spot sell things we would like to see gracing our floors and walls tonight -- yesterday if possible -- but the people who work there are so nice. The craft fairs, the holiday to-dos, all boasted a warm, everybody-come vibe.
Now Melrose is going to be getting a bit of that sparkle with the store's move. Ghettogloss is soon to debut between Highland and Vine -- at 6109 Melrose, to be exact -- and they're doin' it up in true GG style. The Saturday night, August 15th shindig will have a DJ, cocktails, singer Nico Stai, and Gone Hollywood, a group show. There will also be three solid hours of silk-screening madness, so attendees are invited to show with something silk-screenable.
Those pants? Second drawer? In the back? Help them. They need something. Anything.
As we mentioned, this is a move, a relocation, not a second store. So Silver Lake people, make for Melrose. Melrose people, you're there, you know, go. And everyone else who likes furniture that makes a statement and paintings that pop, point your car toward Hollywood.
Copyright FREEL - NBC Local Media