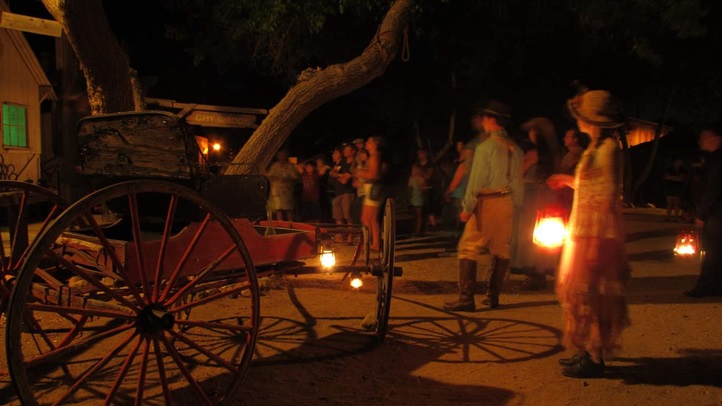 NOT YOUR TYPICAL ALL HALLOWS EVE: One can't assume that there are only four or five ways that most people mark October 31. True, many of us are out with our trick-or-treaters, and several costume lovers find a good party. And the scary movie set? They fill out Southern California's independent cinemas, each and every year. But finding an actual tour of sorts is a bit harder, especially one that isn't the "walk through a spooky maze" type. Still, the holiday delivers a few frightening outings, and two in particular have strong historic angles. We are talking about the Lantern Light Tours of Silver City Ghost Town and the Evening Tours at San Diego's Whaley House, of course.
SILVER CITY GHOST TOWN: We've spoken in this space about the small clutch of atmospheric Old-West-y buildings found in Kern County, it is true, but the nighttime paranormal investigations are a whole different ball of wax. They're popular, too -- attendees show up at twilight throughout the fall to join a walkabout. But, alas, they're coming to an end with the Halloween season wrapping up. Want to hear macabre tales of former residents and maybe get a few eerie jumps in, too? Head out with GRIT Paranormal on October 31. Tickets are $12 each.
OLD TOWN GETS EERIE: Of course the Whaley House -- said to be one of the most haunted abodes in all of the Golden State -- will stay open for the spine-tingliest day of the year. It's a fine chance to peek around a 19th-century casa by evening, yes, but some atmospheric additions, like "period music" and "historic lighting" will lend flavor. It's $15 a person and runs through, you guessed it, the witching hour: midnight on Halloween night.
Copyright FREEL - NBC Local Media