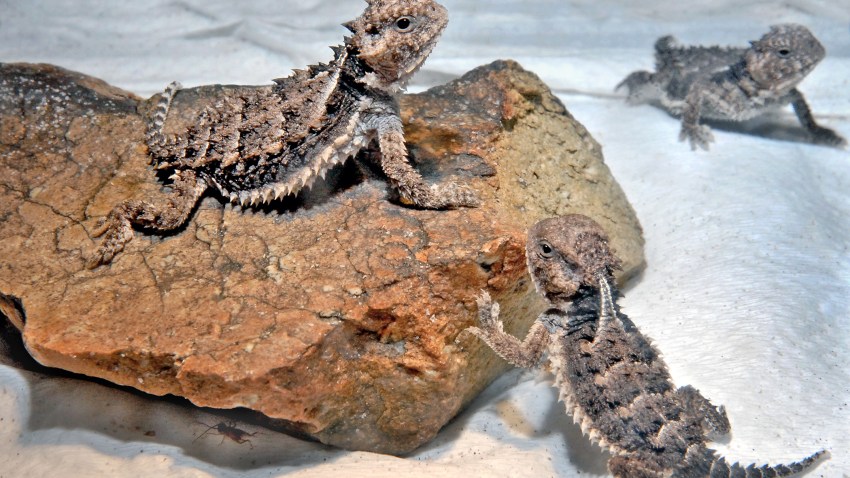 One giant step for giant horned lizards.
Weighing in at 1 gram each, nine giant horned lizards were successfully reproduced for the first time in North America, the Los Angeles Zoo announced Thursday.
"This clutch is a milestone event for the L.A. Zoo and zoos across the continent. These lizards will serve as ambassadors for their species and aid in the study of this species," Los Angeles Zoo Curator of Reptiles and Amphibians Ian Recchio said in a statement.
Native to Mexico, six adult giant horned lizards were transported to the United States and divided between the San Diego Zoo and the L.A. Zoo, where the nine lizards hatched in November.
According to Recchio, the offspring currently weigh about 5 grams, making "giant" a giant misnomer (see picture). The horned lizard family is the only species of animal known to squirt blood from their eyes as a defense mechanism.
Elizabeth Leider, spokeswoman for the L.A. Zoo, said the public will be able to observe the lizards when the new Living Amphibians, Invertebrates and Reptiles center (The LAIR) opens in the fall.
Onlookers should note, though, they may be disappointed not to see the red of the lizards' eyes. Expelling blood is a reaction reserved for only the most threatening situations, indicating discomfort in their new home and an expiration date on their survival.
"Since the lizards haven't displayed this behavior at the zoo, it indicates they are comfortable in their environment here," Recchio said.
The Los Angeles Zoo and Botanical Gardens is located in Griffith Park at the junction of the 134 and 5 freeways. Admission is $14 for adults and $9 for children (ages 2 to 12). The Zoo is open from 10 a.m. to 5 p.m. daily. For information, call 323-644-4200 or visit lazoo.org.