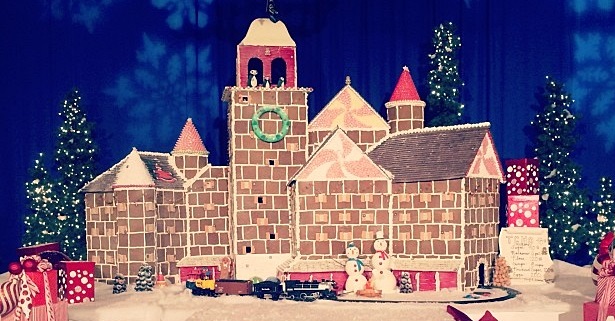 OVER-SIZED SWEETS: Most cookies and brownies and snickerdoodles tend to be of the respectable, palm-sized variety. Sure, theme parks'll bake up the occasional plate-shaped batch of cookies, but, overall, treats stay on the tinier end of the food-girth scale. There are a few notable exceptions -- giant banana splits and massive lollipops, the kind that hide the licker's head -- but none can approach the bigness, nor the festiveness, of gingerbread. Nope, we're not talking about gingerbread people, though they too can go large. (Aside: Have you ever seen a gingerbread man that's the size of an actual man? Someone please make that, pronto.) We're talking about gingerbread houses, and castles, and schools, and all of the building-type structures that can be created with a little spicy dough.
STATELY SUGAR FINDS: California is a state that's home to many an outlandish, open-to-public-viewing gingerbread artwork. A number of hotels display edible, multi-room abodes in their lobbies -- The Claremont Hotel Club & Spa of Berkeley is a major one, as The Fairmont in San Francisco -- and the Discovery Science Center in Santa Ana has a whole exhibit devoted to the facts and figures of the festive foodstuff. And up in Victorian-laden Ferndale? There's the Gingerbread Mansion. Nope, it isn't made out of real gingerbread -- that might go a bit soggy on a rainy day -- but you can stay inside it, unlike a smaller sugary structure.
ONE LAST SHOUT-OUT... for The Fairmont's fabulous lobby-gracing creation, which, wait for it, measures 22 feet high. Compare this to the gingerbread houses of our own homes, which may -- may -- top a foot, if we're especially practiced. Could you make a 22-foot-tall gingerbread mansion in your own oven? Look to the historic Nob Hill hotel for inspiration, gingerbread enthusiast.
Copyright FREEL - NBC Local Media