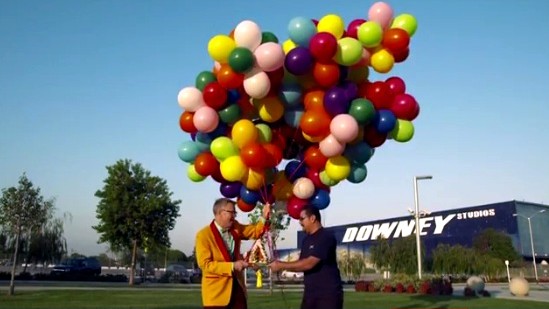 When we heard that retro-lovin' slide maven Charles Phoenix called upon Oscar Streit of Downey's beloved Streit German Bakery, we knew tasty things had to be in store.
And oh, tasty things were indeed. Mr. Phoenix and Mr. Streit made a gingerbread house together, and then Mr. Phoenix joined Brian Potvin -- The Ballusionist -- and sent the edible abode into the air via several colorful balloons.
Why? Why indeed. Let's put a hold on why-ing things during the holidays and enjoy the whimsy.
Several things may come to mind while watching the video of the day. One, "Up." Obvs. Two, is this something the "Myth Busters" should take on? How much gingerbread can be held aloft? Paging those smart guys. Three, do more gumdrops go on gingerbread houses than in mouths every year? If so, we're taking a stand today on the side of gumdrops. It's a candy that deserves a renaissance.
And finally, surely the Discovery Science Center, with all of their gingerbready experiments, has gotten (spicy) wind of this event.
Now, the video.
Copyright FREEL - NBC Local Media