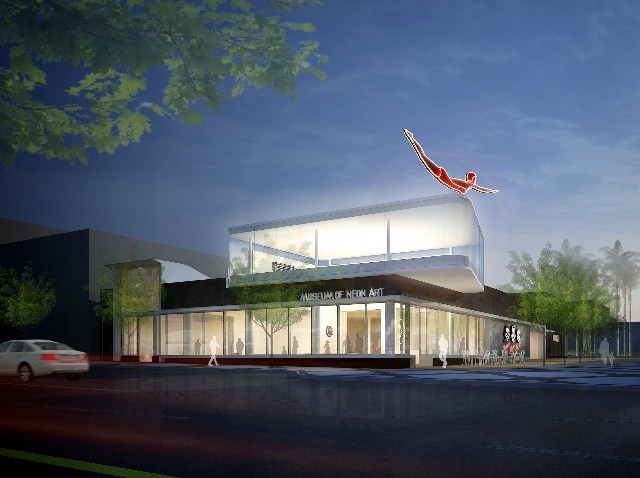 The Local Places That Look Fairly Lit-Up and Impressive at Night files are pretty overflowing for our city. We've never been a place that chooses the subtle route, really in anything, but definitely when it comes to making the front of business pop after the sun has bid its daily adieu.
It makes sense, then, that one of the lit-up-iest places in all the land is getting a new neighbor that, in concept, truly rules the nighttime. The Museum of Neon Art announced on Thursday, March 24 that it would be moving into a new museum in Glendale in 2012. And its already established neighbor? The Americana at Brand, which knows a thing or two about evening illumination.
MONA's 10,000-square-footer will be created from scratch, meaning the neonians will have a lot of say in the building of the space, and how to best display all of that glowy signage and its eye-popping artworks.
Of course, we say that the Museum of Neon Art rules the nighttime, but expect traditional daytime hours, in addition to special after-hours events. There will also be a "neon fabricating facility" on the grounds, which brings to mind the bending of tubes. And wattages. And filaments. And such.
Oh, and a place to eat and a gift shop, too, where you may relax after observing all that neon fabrication facilitating.
If buildings could look forward to new neighbors, we're pretty sure the Americana would be stoked. But the local landmark that must be the most excited about Glendale's newest, neoniest institution has to be the Alex Theatre, which will be short stroll from MONA's new digs. That tall, deco-y obelisk atop the venue's sign continues to be a beacon to neon enthusiasts, here and everywhere.
So. Visit the museum, then take a walk and see illumination in action. Call it the neon completest's perfect day/night out.
Copyright FREEL - NBC Local Media