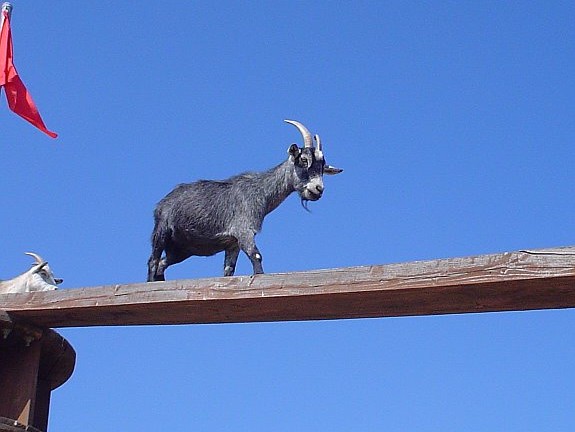 There are a lot of things to like about the annual Fall Harvest Festival at Underwood Family Farms in Moorpark. It's opening on Friday, Oct. 1, it runs through Sunday, Oct. 31, and 2010 is its 13th year, which sounds perfectly October-ish to us.
1. The goat ramps. We talk about this one year after year, because, it doesn't matter how citified we get, we like to see a goat stepping, sure-footedly, on a plank in the sky. It draws a crowd. The goats don't seem to cop an attitude, either, about all the attention.
2. The tractor-pulled hay ride through the corn. No one has to do anything in this world, but let's be honest: Everyone should sit on a hay barrel once. Bonus if you're in overalls.
3. The Fall Festival is open every day of October, not just the weekends. You want to go on a Tuesday? With the boss? Go on a Tuesday with the boss. Bonus if the boss is in overalls.
4. The corn cannons. You shoot corn. Out of a cannon. No one has to do anything in this world, but if you shoot corn out of a cannon once, you'll remember it forever, guaranteed.
5. The folksy eats, the live entertainment, the theme weekends, all the fresh produce for buying, the fact that is it extraordinarily family friendly but a welcome respite for Angelenos who want less traffic and noise and more goats lazily walking along planks.
6. That anyone who feels like fall doesn't come to LA will have to eat their words, or at least something fried and delicious.
Copyright FREEL - NBC Local Media