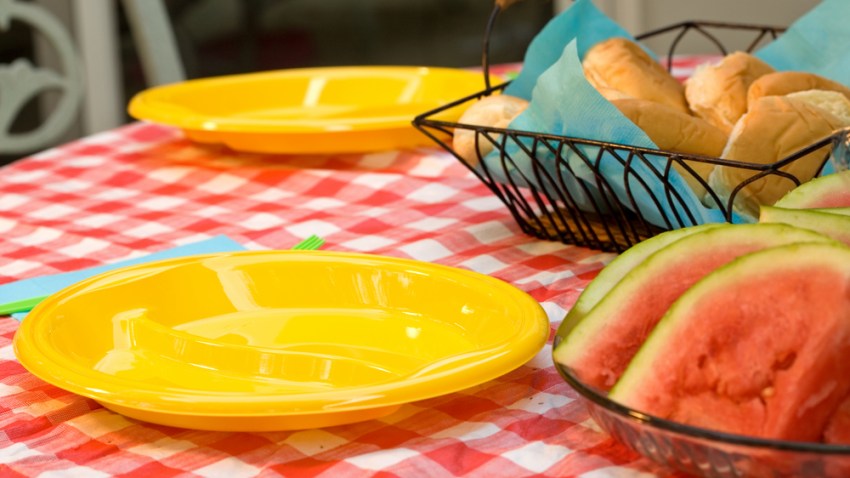 Memorial Day Weekend usually marks the kick-off for backyard barbeques. For many people the perfectly grilled hot dog and grandma's secret recipe potato salad do the trick – but if you are looking to up your game a little bit – and surprise your friends with something more impressive – try the recipes below!
These recipes come from Eddy Rocq – owner and Executive Chef of Rocq Catering. Rocq studied at the Mederic Culinary School in the culinary holy land of Paris! Here in Southern California Rocq has cooked at the Hotel L'Ermitage in Beverly Hills.
And if you are hoping to do less day of cooking – several of these recipes can be prepped the day before – like the poached pear and blackberries.
Salmon in Papillote
6 oz Salmon
2 tbsp Olive oil
1 tbsp Pastis
1/2 tsp Salt and Pepper
1/2 cup of Olives
2 tbsp tarragon
3-5 cherry tomatoes
2 slices of lime

Place salmon on a piece of aluminum foil and incorporate all your ingredients on top of the fish and close foil. You can set aside your fish on the barbecue while you prepare other items and let it cook around 300-350 degrees for about 8 min.

Salad Nicoise for 4 guests
4 oz Tuna
1 tbsp Olive oil
1 tsp Parsley
1 tsp Sage
½ tsp Paprika
½ tbsp Salt & ½ tbsp Pepper
3 Hard boiled eggs
1 Heirloom Tomatoes
2 Carrots
Mixed Green Salad
1 Acorn Squash
2 Purple potatoes
Cooked green beans
Balsamic Vinaigrette (you may buy at any local grocery store)

Marinate your 4 oz tuna with the Olive oil, parsley, sage, paprika, salt and pepper. Slightly sear your tuna on the grill or barbecue for 30 seconds on each side, just enough so that it is cooked on the outside but raw in the middle. Cut in slices and place off to the side. Cook your eggs, purple potatoes, acorn and carrots to your own taste. Now that you have all your ingredients ready you can start to plate your salad, you have beautiful vibrant colors that are great to create a delicious presentation and a very nutritious salad.
Herb de Provence Pork Tenderloin Kebabs

1 lb Pork Tenderloin
½ cup chopped garlic
olive oil
½ tsp Salt and pepper
2 tbsp Herb de Provence
Dried Prunes
Bread crumbs
3 Zucchini
3 Corncobs
Balsamic Reduction (Will be utilized at the end in very small amounts to drizzle over the Kebabs)
Wooden Skewers (Tip: Place your wooden skewers in water at least 1 hour before using on the barbecue to avoid burning)
Preparation for Pork Tenderloin: Cut pork in to small 1 in. cubes. Sautee pork with ¼ cup chopped garlic, 1 tbsp olive oil, ½ tsp salt & pepper and 1 tbsp herb de province in to a pan for 30 seconds, set off to the side. We do not want to cook the meat for very long since they will be placed on the grill later and will cook some more.
Preparation for Zucchini: Cut zucchini in small 1 in. cubes, and Sautee with ¼ chopped garlic, 1 tbsp olive oil, pinch of salt and pepper for about 1 minute. Add about ½ cup to 1 cup of breadcrumbs right before taking the zucchini off the pan to avoid clumps and make sure that zucchini's are well covered with breadcrumbs. Set off to the side.
Preparation for the Corn: Place a pot on the stove with water and bring to boil. Cut corn into small 1 in. cubes and place on the already bowling water and let it cook for 15 minutes. Sautee corn slightly with1 tbsp of butter.
Now we are ready to place all of our food items on the skewer and it does not matter the order in which they are placed, just make sure you take in consideration color and presentation. So we may start with the corn, pork, zucchini and the prunes last, that way we have the yellow and the green in between two dark colors like the pork and prunes. Cook on the Barbecue for an additional 10 minutes and when you are ready to serve, place a drizzle of balsamic reduction over Kebabs.
Barbecued Apricot Tarts
5 ripe Apricots
Puff pastry
2 oz butter
1 oz almond powder
2 oz granulated sugar
1 egg
1 tbsp all-purpose flower
½ tsp fresh lavender
1 tsp Rum
½ tsp rosemary

Preparation for Almond Cream: Using a Kitchen Aid mixer, place your 2 oz of butter, 1 oz almond powder, 2 oz granulated sugar, 1 egg and 1 tbsp of flower and mix until all your ingredients are completely incorporated.
Preparation for Puff Pastry: Cut puff pastry into 3 in. cubes. Add about 1 tbsp of almond cream on top of your puff pastry cube with the help of a pastry bag or a spoon and bake at 400 degrees for 10- 12 minutes.
Preparation for the Apricots: Cut apricots into wedges and marinate with the rum, lavender, and rosemary. Spray barbecue grill with olive oil and cook apricots for 30 seconds on each side.
Place apricots on top of the baked puff pastry and you may add dark chocolate sauce for additional flavor. This is a delicious, very light dessert that it is very easy to do and all of your guests will love.

Poached Pear and Blackberries

1 Pear
3 cinnamon sticks
15 Blackberries
2 cups of Water
1 cup of Sugar

Place a pot on the stove and add the water and sugar and bring to boil, this will make syrup. Add your pealed pear, cinnamon sticks and blackberries to the boiling syrup and heat for 15 minutes on medium heat. Refrigerate and serve the next day with some low fat whipped cream.
Crepes Suzette

Crepe Mix:
1 cup low fat milk
2 tbsp granulated sugar
1 tsp vanilla
2 tbsp dark rum
1 oz melted butter
1 egg
Preparation for Crepes: Mix all ingredients together, adding the butter last. Run your mix through a strainer to avoid any lumps of flower to remain in the crepe mix. Refrigerate and let it rest overnight for about 24 hrs.
Orange Sauce:
1 orange (Note: you will need the zest and the juice from this orange)
1 lemon (Note: you will need ½ of the lemon zest only)
½ cup of water
½ cup of sugar

Preparation for the Orange Sauce: Add the water, sugar, orange juice, orange zest and lemon zest to a pot and bring to boil. Let it cool down overnight. Now that your mix has sat overnight, you may turn on the stove, butter a non-stick pan and add a very small amount of the crepe mix on your hot pan. Crepes are supposed to be very thin, so make sure you do not add too much crepe mix on the pan. Serve your crepe with the orange sauce