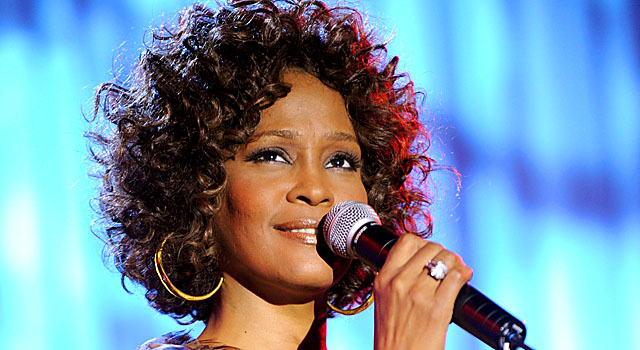 "Grammys" was and is a word that often follows the name Whitney Houston. Whether you mentioned the singer's famous award show performances or her many wins in categories such as Album of the Year, the Grammys and Ms. Houston are forever and always linked.
Now the Grammy Museum at LA Live will pay homage to the singer, who passed at 48 in February, with "the first first major exhibition to explore her musical legacy." The show, which is called Whitney!, is set to debut on Wednesday, Aug. 15.
What will fans see at the exhibit? If you know your Grammy shows, especially those who focus on a single performer and her career, you can count on artifacts and photos and awards aplenty, as well as an outfit or two, too. We mentioned the star's Grammy appearances earlier, so let's spotlight the gown she wore at the 1992 awards. If you're thinking it was white and beaded, you'd be correct.
Her personal Bible and fan-created memorabilia will also be on display.
But the exhibition, like all Grammy shows, isn't merely about the physical stuff; Whitney! has come together with the help of her family and via interviews the museum held with family, friends, and collaborators.
So, how many Grammys did Ms. Houston take home? An impressive six. Also consider that was out of twenty-six nominations.
Follow NBCLA for the latest LA news, events and entertainment: iPhone/iPad App | Facebook; | Twitter; | Google+; | Instagram; | RSS; | Text Alerts | Email Alerts
Copyright FREEL - NBC Local Media