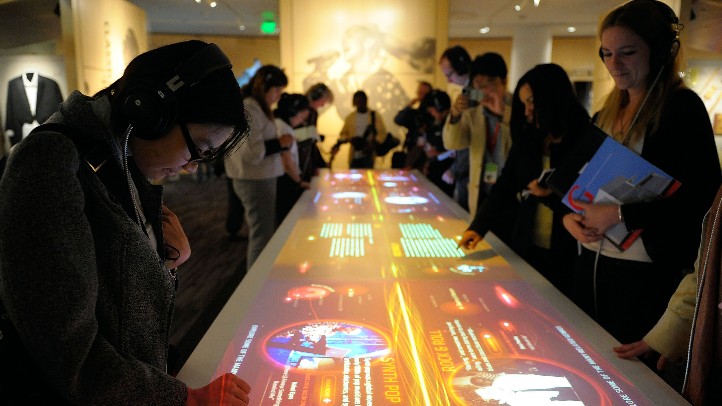 There are many major awards shows in the world, but few of those events just happen to post a related location that non-attendees can visit and enjoy.
Lucky for us the Grammys just happen to boast such a spot, in the Grammy Museum, which is just a pip away from where the awards will go down on Sunday, Feb. 12. (Distance from Staples Center to the Grammy Museum? Four minutes, or .2 miles, on foot. That qualifies as "a pip" in our books.)
As always, the Grammy Museum is ready to greet its big week with much giggery and such. The musical shows during the museum's official Grammy Week will include Glen Campbell and America -- those dates are Feb. 6 and 7, respectively -- and a night devoted to Mississippi music on Thursday, Feb. 9. (A VIP experience is being auctioned off to the Feb. 6 and 7 nights.)
It's also the final week of the Andrea Bocelli exhibit, which closes on Grammy Sunday. And The Genius of James Brown will wrap the following day.
And let's pause to give a special shout-out to the museum's third floor, which focuses on people like the session musicians. Should there be an award for these all-important players? So many of our favorite songs are bettered by their inestimable talents.
For more going on at the Grammy Museum, keep an eye here. It's best also to become a member if you want a first crack at a seat in their intimate acoustic-nice theater.
In short, don't fret if you misplaced that Grammy invite. There's still a way to swim in the mix a few doors down, and plan your own future acceptance speech while you stroll and admire those who've trail-blazed before you.
Follow NBCLA for the latest LA news, events and entertainment: Twitter: @NBCLA // Facebook: NBCLA
Copyright FREEL - NBC Local Media