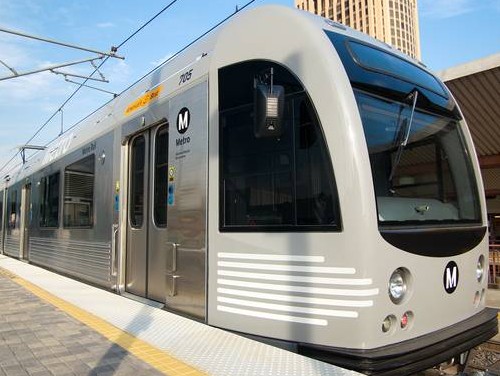 The Metro Gold Line has always had a bit of a convivial air to it.
Maybe it is the stops near the restaurants of downtown, Chinatown, and Old Town Pasadena that lend it its leisure-time airs. Maybe it was those flash parties that used to happen on the last train north every weekend a few years back (or were those just urban legend)?
But now the Gold Line is throwing a party, actually several parties, to celebrate the downtown-to-East-LA extension, which opens on Sunday, November 15th. There will be music, art, eats, Santa sightings, and booth-y things at four stations -- East LA Civic Center, Mariachi Plaza, Little Tokyo/Arts District, and Union Station -- and free rides during the celebrations.
We should note that the free rides are on the Gold Line only. You might eye the times and so forth before golding it.
Also nice: The Geffen Contemporary is close to the Little Tokyo/Arts District station, AND they are starting their six-free-days deal on Sunday, November 15th. Think you can combine the two? A free ride on the Gold, a free gallivant at the Geffen?
Copyright FREEL - NBC Local Media