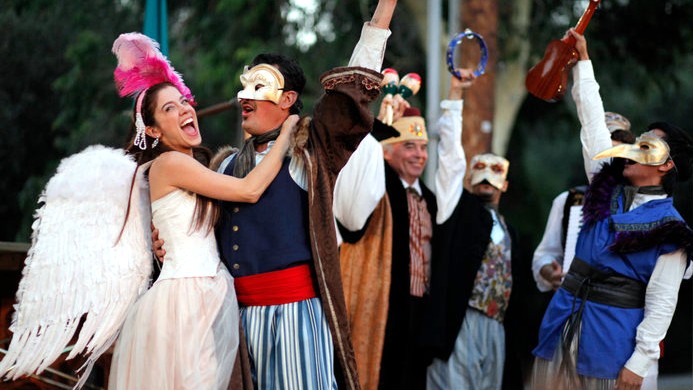 Favorite things about summer? Personal lists vary. We like bright blue straws in pink drinks, and spontaneous road trips, and treats of an ice-cream-y nature. We also like free plays in parks, another welcome sign of the season, and we really, really like them when they have a certain Bardly touch.
Will's wit + a canopy of trees + soft evening + a lively cast? It's a winning formula for the Independent Shakespeare Company, which will be opening its Griffith Park Free Shakespeare Festival on Thursday, June 30. Pretty much everything you need to know is the name of the event -- the where, the how much, and the what it's all about -- so thank you, ISC. But perhaps a few other details will help.
"The Merry Wives of Windsor," "Hamlet," and "Love's Labours Lost" are the three plays set for staging over the 2011. The productions'll run from Thursday to Sunday nights through Aug. 28. And yes, Griffith Park is big, so we expect you'd like to know where this is all going down. It's at the Old Zoo on Crystal Springs Drive.
Picnics are permitted, and BBQ will be sold on site (an update: Please order your BBQ if you're not showing with your own basket; good tip). Yep, music may be the food of love, but actually food-food is welcome and desired, too.
Note that the trio of plays won't be running each weekend, but rather in that order (although there's a bit of overlap between "Wives" and "Hamlet"). It's a beautiful, word-ful evening out, the costumes and cast are primo, and the price is perfect. It's all so summery, in fact, that we wouldn't be at all surprised to see summer itself make a cameo.
Copyright FREEL - NBC Local Media